Arts & Culture
Shinge Roko Sherry Chayat Roshi to give talks on Witkin Oct. 5, 6
Shinge Roko Sherry Chayat Roshi, author of "Life Lessons: the Art of Jerome Witkin" (Syracuse University Press, 1994), will give two talks in conjunction with the exhibition "Drawn to Paint: The Art of Jerome Witkin" at XL Projects, 307-313 S. Clinton St., Syracuse. The talks will be held on Wednesday, Oct. 5, at 7 p.m. and Thursday, Oct. 6, at 2 p.m. Both talks are free and open to the public.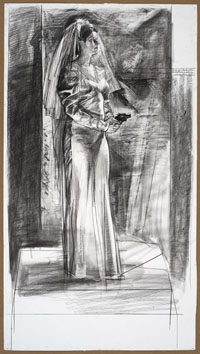 Witkin is one of America's leading figurative painters and a longtime professor of painting in SU's College of Visual and Performing Arts (VPA). "Drawn to Paint" consists of 70 of his works, including drawings, paintings and sketchbooks, and marks the first time he has allowed his drawings to be displayed beside their finished works.
"Drawn to Paint" is on view through Oct. 16 at XL Projects, VPA's downtown venue. The exhibition is also on view at SUArt Galleries on SU's main campus through Oct. 23. Dividing the show between the two venues allows for broader access and engagement within the community.
Shinge Roshi is abbot of the Zen Center of Syracuse. In addition to "Life Lessons" she has written many articles and reviews for such journals as Buddhadharma, Shambhala Sun, Tricycle, Sculpture Magazine, ARTnews, American Ceramics, Present Tense and Lilith. She compiled, edited and wrote the introduction for "Eloquent Silence: Nyogen Senzaki's Gateless Gate and Other Previously Unpublished Teachings and Letters" (Wisdom, 2008). With Eido Tai Shimano Roshi and Kazuaki Tanahashi she compiled, translated and edited "Endless Vow: The Zen Path of Soen Nakagawa" (Shambhala, 1996). She also wrote the introduction to, compiled, and edited "Subtle Sound: The Zen Teachings of Maurine Stuart" (Shambhala, 1996).
For more information about the talks, contact Andrew Havenhand at ahavenhand@yahoo.com. For more information about "Drawn to Paint," visit http://suart.syr.edu.