Veterans
IVMF leadership to speak on SU's longstanding commitment to vets and military families in D.C.
Mike Haynie, executive director of the Institute for Veterans and Military Families (IVMF) at Syracuse University; SU alumnus Ken Quaglio G'91, principal at Ernst and Young; and graduates of the Entrepreneurship Bootcamp for Veterans with Disabilities (EBV) program will speak to SU alumni and interested stakeholders about the University's longstanding commitment to the veteran and military family communities at an event in Washington, D.C.
The event will take place on Monday, Oct. 3, beginning at 6:30 p.m. at the Mayflower Hotel, 1127 Connecticut Ave., NW. A question-and-answer session will follow. To attend, register here, or contact SU in DC at (202) 797-4678.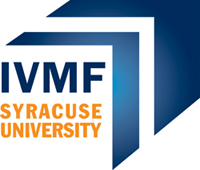 James Schmeling, IVMF managing director, and Ray Toenniessen, IVMF director of operations and development, will join Haynie. All three are veterans of military service. They lead the IVMF, support its mission and promote opportunities for engagement with SU students, faculty, staff and alumni.
SU's historic commitment to veterans and military families began during the post-World War II era and continues today. Following World War II, SU Chancellor William Pearson Tolley doubled campus enrollment by offering vets a world-class institution at which to use GI Bill benefits. This commitment continues through the present-day work of the EBV, a cutting-edge training program in entrepreneurship and small business management offered to vets with disabilities to assist them in pursuing the American dream of business ownership, and the IVMF, an academic center that leverages the resources of higher education, in partnership with stakeholders and the support of JPMorgan Chase (JPMC), to develop research, educational and employment programs positioned to address the social and economic concerns of veterans and military families.
In addition to the IVMF, the University's schools, colleges and institutes engage with veterans and the military community. SU's portfolio of veterans programs include, among others, the: