Campus & Community
SU to host Imagining America for new five-year term
Syracuse University has again been selected to be the host campus of Imagining America: Artists and Scholars in Public Life (IA), a national consortium of 88 colleges and universities whose mission is to animate and strengthen the public and civic purposes of humanities, arts and design through mutually beneficial campus-community partnerships that advance democratic scholarship and practice. Extending SU's initial term as host, which began in 2007, the new five-year term will begin in July 2012 and run through 2017.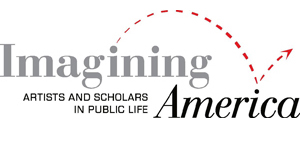 IA was founded in 1999 as a partner program of the White House Millennium Council, the University of Michigan and the Woodrow Wilson National Fellowship Foundation. Since 2001, it has functioned as a national consortium, with members including large and small, public and private liberal arts and research institutions (e.g., Cornell University, California Institute of the Arts and Ohio State University), as well as historically black colleges and universities and Hispanic-serving institutions (e.g., Xavier University of Louisiana and University of New Mexico), and community colleges (e.g., Richland College). 
"Imagining America plays a pivotal role in the national movement to re-emphasize higher education's democratic purposes," says SU Chancellor and President Nancy Cantor. "It is a crucial catalyst of engaged scholarship by faculty and students at institutions of every kind from coast to coast—including here at SU, where its impact is felt across disciplines and colleges, as well as across the city. We're honored to have been selected to host this vital engine of the arts, humanities and culture for another five years."
"We are delighted to continue our relationship with Syracuse University as the host institution for Imagining America," says Bruce Burgett, chair of Imagining America's National Advisory Board. "Syracuse University is a powerful local instance of the type of institutional change we are committed to bringing about at a national level. I cannot imagine a better partner for IA's next five years of work and development."
Since 2007, IA's consortium of colleges and universities has grown to its present size from 73 institutions, and participation at IA's annual national conference has increased to more than 400 attendees, which is the expected attendance at the Sept. 22-24 conference in Minneapolis/St. Paul, Minn. IA's ongoing regional meetings, instituted in 2007 and involving more than 60 higher education institutions and cultural organizations to date, have doubled the number of people who interact across campuses and communities through IA events each year.
One of IA's key research and action initiatives that shapes and sustains regional, national and global conversations about models of public scholarship and campus-community collaboration is the Tenure Team Initiative on Public Scholarship (TTI). The TTI is a crucial component of IA's commitment to expanding the public role of humanists and artists who are based in higher education. Its seminal report, "Scholarship in Public" (2008), articulates a broad understanding of higher education's public mission and its impact on changing scholarly and creative practices in the cultural disciplines.
Looking ahead, IA is focused on continuing to encourage the innovation and integration of knowledge and creativity to help identify and solve real-world problems. IA's emerging research and action initiatives explore the career aspirations and decisions of graduate students and early career scholars and artists; promote and develop assessment practices that emphasize community impact and involve community stakeholders in collaborative and meaningful ways; expand IA's purview to engaged undergraduate education; and elucidate and cultivate the relationship between diversity/inclusion and civic engagement/public scholarship. 
National search for IA director
Beginning in the fall semester, a national search will begin for a new director of Imagining America. Jan Cohen-Cruz, who since 2007 has served in this position, will complete her term in June 2012.
"I'm so grateful for the opportunity to have directed Imagining America in the supportive context of Syracuse University," says Cohen-Cruz. "The experience has expanded me from absorption in my own practice to engagement with work in a similar spirit happening far and wide."
Cohen-Cruz was introduced as director at IA's seventh national conference in September 2007, where she announced her goal of creating more opportunities for intra-consortium collaboration and for undergraduate student and community partner participation. Researching and promoting excellence in the pedagogy of humanities, arts and design-based civic engagement was another early priority.
Since then, Cohen-Cruz has initiated and supported multiple distinguished national initiatives that have sustained and advanced public scholarship and engagement on campuses and in communities, as well as led many Syracuse-based projects that have engaged University stakeholders from multiple disciplines and community cultural leaders. Through this work, IA's national expertise has catalyzed engaged work at SU, while also engaging SU stakeholders in IA's national program activity.
Cohen-Cruz's efforts have generated new curriculum development and assessment on member campuses, such as the IA Grants Program at SU, which supported new courses that emphasized public scholarship and practice in humanities, arts or design and have benefited both the Syracuse community and SU students, demonstrated the likelihood of becoming sustainable and served a democratic purpose.
IA's campus-community arts projects, such as Art-in-Motion, combined public conversations and performances to activate arts and stimulate urban redevelopment in Syracuse. In partnership with Open Hand Theater and Syracuse Stage, in September 2010 Art-in-Motion featured a large scale performance in Armory Square with giant puppets created by residents of four distinct Syracuse neighborhoods.
Cohen-Cruz came to IA from New York University's Tisch School of the Arts, where she served as a professor in the drama department and in the department of art and public policy. She is the author, most recently, of "Engaging Performance: Theatre as Call and Response" (Routledge, 2010), which includes a chapter about SU. Sponsored by the Bronx Museum and the U.S. State Department, her current research focuses on cultural diplomacy and involves 15 community-based visual arts projects in countries around the world. After June 2012, she will continue to serve as an SU University Professor and will be the founding editor of an online journal that documents, explores and critiques scholarly and creative projects that integrate arts and culture.
For more information on Imagining America, or the national conference, visit: http://www.imaginingamerica.org, or contact Jamie Haft, communications manager for Imagining America, at 315-443-8765, or jmhaft@syr.edu.