Veterans
SU named by G.I. Jobs magazine as a 2012 military friendly school
Syracuse University has been named by G.I. Jobs magazine as a Military Friendly School for 2012. According to the magazine, the honor ranks the University in the top 20 percent of colleges, universities and trade schools nationwide that are doing the most to embrace America's service members and veterans as students. SU was among the 1,518 colleges, universities and trade schools on this year's list that prioritize the recruitment of students with military experience.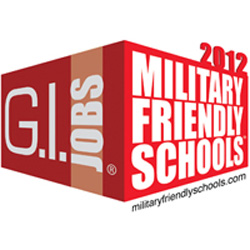 SU was named to the military friendly list in 2010 and 2011. Since then, the University has increased the scope and focus of its portfolio of programs and services related to veterans and military families in order to better serve these communities. In addition, the June 2011 creation of SU's Institute for Veterans and Military Families (IVMF) allows the University to more fully leverage the resources of higher education in service to veterans and military families, in partnership with stakeholders and the support of JPMorgan Chase, to develop research, educational and employment programs positioned to address the primary social and economic concerns of this community.
With a long-standing commitment to veterans and military families initiated during the post-World War II era when Chancellor Tolley doubled campus enrollment by offering vets a world-class institution at which to use their G.I. Bill benefits, SU continues its dedication to the veterans community through present-day initiatives created within the University's 13 professional schools and colleges, personalized services from recruitment to degree completion available to student-veterans through the Veterans' Resource Center at University College and programs administered under the auspices of the newly created IVMF.
In an effort to help veterans find the right school, G.I. Jobs has incorporated a survey of student vets for the first time as part of the military friendly list. Survey feedback provides prospective student veterans with insight into student veteran experience at a particular institution, based on peer reviews. Service members and veterans can also meet individual student veterans from various schools virtually on the site, in order to learn more about personal school decisions and the transition from the service to an academic environment.
The 2012 list of military friendly schools was compiled through extensive research and a data-driven survey of more than 8,000 schools nationwide. Methodology, criteria and weighting for the list were developed with the assistance of an Academic Advisory Board consisting of educators from schools across the country.
A full story and detailed list of military friendly schools will be highlighted in the annual Guide to Military Friendly Schools in early October. The newly redesigned website features the list, interactive tools and search functionality to assist veterans with school decisions.
G.I. Jobs is published by Victory Media, a veteran-owned business that also publishes the Guide to Military Friendly Schools, Military Spouse and Vetrepreneur magazines and annually rates the nation's "Military Friendly Employers," "Military Spouse Friendly Employers" and "Best Corporations for Veteran-Owned Businesses.