Media, Law & Policy
Newhouse School's Tully Center launches Free Speech Zone
The S.I. Newhouse School of Public Communications' Tully Center for Free Speech has launched Free Speech Zone, an open venue for interactive commentary, news and analysis of issues at or near the intersection of free speech, media law and policy, the courts, privacy, the First Amendment and the press. It can be viewed on the Tully Center website at http://tully.syr.edu.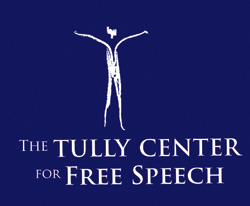 Free Speech Zone is intended to "foster vigorous conversation, novel ideas and intellectually stimulating debate."
The inaugural post, "Speech in public places," was written by Tully Center Director Roy Gutterman, an associate professor of communications law and journalism in the Newhouse School. It examines the First Amendment suit of James Deferio, a local man who is fighting SUNY Albany's speech policies.
"Free speech and press cases pop up around us all the time," Gutterman says. Sometimes they require a dialogue about what speech means to us as a democracy. I hope the Free Speech Zone helps us examine these issues and add to the marketplace of ideas."
Gutterman says Free Speech Zone will include posts from a variety of contributors, including other faculty members, students and First Amendment experts. He hopes to update content an average of once a week.
Endowed by the late Joan Tully '69, the Tully Center educates students and the public about the important value of free speech through education, resources and research.
For more information about Free Speech Zone, or to contribute, contact Gutterman at (315) 443-3523 or rsgutter@syr.edu.