Arts & Culture
SU Drama to present pro-union classic 'The Cradle Will Rock'
Here's how Marc Blitzstein described his 1937 musical: "a labor opera composed in a style that falls somewhere between realism, romance, vaudeville, comic strip, Gilbert & Sullivan, Brecht and agitprop [agitation and propaganda]."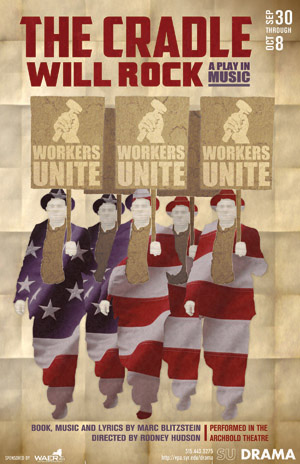 In other words, it has great laughs, terrific songs and plenty of bite. Unabashedly unionist in outlook, "The Cradle Will Rock" was the first American musical told from the point of view of the working class. Presented by Syracuse University's Department of Drama in the College of Visual and Performing Arts, "The Cradle Will Rock" runs Sept. 30-Oct. 8 in the Archbold Theatre at 820 E. Genesee St. Tickets are $16-$18, available at 315-443-3275 or by visiting http://vpa.syr.edu/drama. SU Drama's season sponsor is WAER 88.3.
Set in Steeltown, U.S.A., the play pits the union organizing efforts of Larry Foreman against the manipulations and machinations of town boss Mr. Mister. With a cast of characters whose archetypes could be found on any number of TV news programs, the play's relevance to modern-day America is both amazing and disturbing.
"We've been looking at how timely this all is, going from the NFL to NBA to the grave diggers union locally," says Director Rodney Hudson.
"The Cradle Will Rock" is not only a landmark piece of musical theater, but a piece that embodies theater history with its musical styles ranging from Broadway to vaudeville.
"Blitzstein tries to encapsulate all the musical genres of the time but he does it in a non-harmonic way, reflecting the time period," Hudson says.
Originally directed by a young Orson Welles, the show, which opened in June 1937, stirred much controversy due to its pro-union message, contractual disagreements with Actors' Equity and opposition from disgruntled conservatives who did not believe President Franklin Roosevelt's Works Progress Administration should be funding the arts. In fact, the 1999 film "Cradle Will Rock," directed by Tim Robbins, is a semi-fictionalized account of the process of staging the musical.
Just as the timeliness of Syracuse University's performance is reflective of union struggles today, the original production was under way as Republic Steel workers were on strike and unions were under attack by big businesses. And as political pressures mounted, officials eventually announced that the show would be postponed right before opening night.
Instead of accepting defeat, the production team went to the Venice Theatre and rented space to perform the show. Blitzstein himself played the piano and actors who were threatened with arrest if they appeared on stage performed from seats in the house.
"It's a musical in rebellion; it doesn't hold to the form of musicals of the day," Hudson says.
The show was a hit and by January 1938 had made its way to the Windsor Theatre on Broadway, allowing Blitzstein and Welles to see their original vision of the musical containing a lot of spectacle. Syracuse University's production stays true to this with colorful chandeliers, a carousel horse and a set that looks like elaborately designed posters representing different unions of the time.
"The show satirizes everything from the arts to politics, but it's not all heady, there are jokes. It's like nothing you've ever seen before," Hudson says.