Arts & Culture
Community Folk Art Center mounts new show, 'African Diasporan Treasures'
Community Folk Art Center (CFAC) will launch its 40th exhibition season with a reception on Saturday, Sept. 24. The event will celebrate CFAC's 40th year of public arts and cultural programming, as well as the opening of its latest exhibition, "African Diasporan Treasures: 40 Years of Community Folk Art Center." The exhibition will showcase pieces from CFAC's permanent collection in conjunction with this year's Coming Back Together X (CBT) celebration. CBT is Syracuse University's triennial reunion of African American and Latino alumni, presented by the Office of Program Development.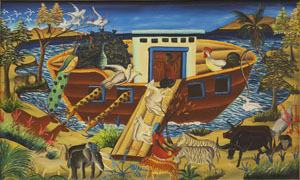 The Sept. 24 reception will be held from noon-5 p.m. at CFAC, 805 E. Genesee St., Syracuse. The afternoon will include a jazz workshop and talkback with acclaimed jazz pianist Lee Whitted, followed by a wheel-throwing demonstration with CFAC co-founder David MacDonald, an internationally renowned artist and professor emeritus of ceramics.
Featuring more than 30 works by artists including Joel Gaines, Ellen Oppler, Jack White, Denise Cole and Kamiiron Pritchard, "African Diasporan Treasures" provides a rare opportunity for visitors to experience the rich artistic history of CFAC. In many cases, the pieces have not been displayed for decades. The show will also feature African art that was once part of the Smithsonian Museum's collection. The exhibition will be on display at CFAC until Saturday, Dec. 10.
CFAC began as an idea in 1972, inspired by Syracuse University students and faculty in the African American Studies Department and Syracuse city residents and artists who endeavored to bring the art and artists from the African Diaspora to Central New York and share them with the University and the greater Syracuse community. What started as a small storefront on the South Side of Syracuse has evolved into a 12,000 square-foot multidisciplinary art center located in the heart of the Connective Corridor. A proud unit of the Department of African American Studies at SU, CFAC is a beacon of artistry, creativity and cultural expression engaging the Syracuse community, the region and the world.