Campus & Community
Brodock joins University as executive director of digital and social media
Kate Brodock has joined Syracuse University's Division of Advancement and External Affairs  (AEA) as executive director of digital and social media.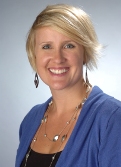 In this role, Brodock will be responsible for the establishment and implementation of a comprehensive and cohesive plan to support and promote Syracuse University—and its core strategic messages—in digital outlets, including social media, while maintaining and developing SU's growing online community. 
Brodock is the founder and chair of the Other Side Group and specializes in new media marketing, content production and brand management. She has worked with clients to develop digital marketing strategies and content production plans, bridging traditional and new marketing concepts. Brodock has also held positions with Bose Corp., Ignition Ventures and Priority 5 Group and was an active leader in the marketing and start-up community of Boston for many years. 
Brodock is the CMO of Girls in Tech, an organization for the empowerment, engagement and education of influential women in technology, and on the strategy board of the Meta-Activism Project (MAP), an organization dedicated to the critical analysis and development of knowledge about digital technology's effect on global politics and society. Brodock has worked on projects with the Harvard Humanitarian Initiative (HHI), identifying the effectiveness of digital citizen journalism in early warning mechanism for potential crises. She is also on the board of the Redhouse Arts Center. 
Brodock received a bachelor's degree from the University of Rochester, an M.B.A. from the Goizueta Business School at Emory University and a master's degree in international relations from the Fletcher School at Tufts University.
Brodock will have a dual report to Kevin Quinn, senior vice president for public affairs, and Nicci Brown, associate vice president in AEA.