Arts & Culture
'New generation' architect Bjarke Ingels of BIG to lecture at Syracuse Architecture
Architect Bjarke Ingels, founding partner of BIG (Copenhagen, NYC), will speak at the Syracuse University School of Architecture on Tuesday, Oct. 4, at 5 p.m. in Slocum Hall Auditorium. His lecture, "Hedonistic Sustabinability," is free and open to the public.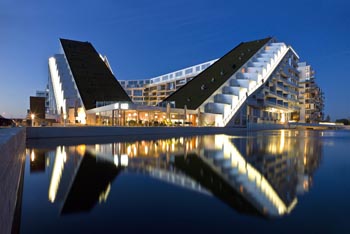 Through a series of award-winning design projects and buildings, Ingels has created an international reputation as a member of a new generation of architects who combine shrewd analysis, playful experimentation, social responsibility and humor. Recently, Bjarke was named as one of the "100 most creative people in business" by Fast Company magazine.
Ingels started BIG-Bjarke Ingels Group in 2006 after co-founding PLOT Architects in 2001 and working at OMA in Rotterdam. In 2004, he was awarded the Golden Lion at the Venice Biennale for the Stavanger Concert House, and the following year he received the Forum AID Award for the VM Houses of Copenhagen (shaped like a V and an M when viewed from above). Since its completion, The Mountain, a second generation of VM Houses, has received numerous awards, including the World Architecture Festival Housing Award, Forum Aid Award and the MIPIM Residential Development Award.
Ingels has also been active as a visiting professor at Rice University's School of Architecture and Columbia University's Graduate School of Architecture, Planning and Preservation. Ingels was recently a visiting professor at Harvard University–where he taught a joint studio with the business school and the graduate school of design–and the Royal Academy of Arts in Copenhagen. This semester Ingels is a visiting professor at Yale University.
To learn more about the work of Ingels and the design work of BIG, visit http://www.big.dk.