Arts & Culture
Verbal Blend, Imagining America, Voices Merging will host Ayo Technology Skype open mic
Verbal Blend, a spoken word poetry program out of Syracuse University's Office of Multicultural Affairs, will host its annual Ayo Technology Skype Open Mic, in collaboration with Voices Merging at the University of Minnesota and Imagining America: Artists and Scholars in Public Life (IA).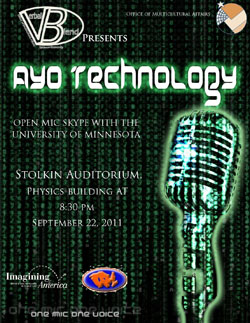 On Sept. 22 at 8:30 p.m., two spoken word poetry student groups, Verbal Blend at Syracuse University and Voices Merging at University of Minnesota, will perform for live audiences at their respective campuses while also using mobile devices, laptops and Skype technology to broadcast their performances to remote audiences in Syracuse and Minneapolis. The poets will address Imagining America 2011 conference's central question: "What Sustains Us?" At SU, the event will take place in Stolkin Auditorium in the Physics Building. It will be hosted by Janel Sullivan, a senior in The College of Arts and Sciences.
Cedric T. Bolton, coordinator of student engagement in the Office of Multicultural Affairs, co-founded Voices Merging in 2002 at the University of Minnesota; Verbal Blend in 2007 at SU; and the Syracuse University Poet's Learning Community in 2010. Bolton and IA Associate Director Kevin Bott will moderate the event and engage one another, the poets and the audience on various topics, including the potential uses of technology in civic engagement initiatives, the impact of sharing through art with students in distant locations, and the ways students might see their work as contributing to larger conversations about civic identity and democratic life.
Verbal Blend is a spoken-word poetry program designed to enhance students' confidence in writing and performing original poems. The program is composed of a six-week workshop series on poetry forms, formats, journal entries and peer-reviews.
Participants have showcased their work at public venues, such as themed open mic nights; Light Work's 2009 night artist reading/reception with Admas Habteslasie; day workshop with poet Quyarsh Ali Lansana; Dr. Martin Luther King Jr. Celebration at the Carrier Dome; "Get on the Bus for Poetry;" Take the Mic Poetry Slam; and a special reading with Tracy Sugarman, author of "We had sneaker, they had guns."
For more information, contact Bolton at 443-9676, or ctbolton@syr.edu. To join the Verbal Blend conversation on Facebook, visit http://www.facebook.com/pages/Verbal-Blend-Poets/116460825041543.