Arts & Culture
Organist, Poister Competition winner Adam Pajan to perform in Setnor Auditorium Sept. 25
Organist Adam Pajan, winner of the 2011 Arthur Poister Scholarship Competition in Organ Playing, will present an organ recital on Sunday, Sept. 25, at 4 p.m. on the historic Holtkamp organ in the Rose and Jules R. Setnor Auditorium, Crouse College. The recital is free and open to the public. Free parking is available in the Irving Garage; patrons should mention that they are attending the recital.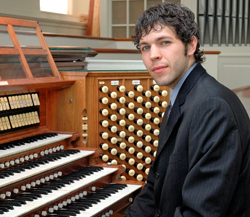 Pajan's program will feature works by Dupré, Alain, Peeters, Hindemith, Smyth and Ives. His performance is part of his first-prize award for winning the Poister Scholarship Competition, which is coordinated by the Syracuse chapter of the American Guild of Organists (AGO) and honors Poister (1898-1980), a renowned organist and Syracuse University professor emeritus. Organists under age 30 are eligible to compete.
The recital is being held in conjunction with the annual convention of the American Institute of Organbuilders in Syracuse. Patrons and conference attendees are also invited to attend a service at Hendricks Chapel on Sept. 25 at 3 p.m. featuring the Syracuse Children's Chorus accompanied by Kola Owolabi, University organist and assistant professor of music in the Rose, Jules R. and Stanford S. Setnor School of Music in SU's College of Visual and Performing Arts.
Pajan is beginning his doctoral work at the University of Oklahoma's American Organ Institute as a graduate assistant and fellow of the Graduate College. He recently completed a master of music degree in organ performance and certificate in church music studies at the Yale University School of Music and Institute of Sacred Music. He graduated magna cum laude from Furman University in Greenville, S.C., in 2008 with a bachelor of music degree in organ performance.
In addition to the Poister Scholarship Competition, Pajan is the winner of the 2009 Albert Schweitzer Organ Competition and West Chester (Pa.) University's Ninth Annual International Organ Competition. The Charleston, S.C., chapter of the AGO called him "our rising star," and he was also named a Young Organ Virtuoso.
An active performer, Pajan has played extensively in the Southeast as well as at Yale University and throughout Connecticut; at the church of St. Mary the Virgin in New York City; at the University of Arizona in Tucson; in Seattle; and in Buxtehude, Germany. In addition to solo performing, he teamed with flutist Michelle Stadler to form the Melodia Duo. Together they have concertized in South Carolina and Arizona as well as recorded and produced two CDs: "Alpha to Omega: Flute and Organ Preludes for the Church Year" (2004) and "Suite Sonatas" (2006). Learn more at http://adampajan.com.
For more information or Setnor Auditorium concert status updates, contact the Setnor School at 315-443-2191.