Arts & Culture
XL Projects to present works of SUArt Galleries' Jerome Witkin retrospective 'Drawn to Paint'
XL Projects, the downtown venue of Syracuse University's College of Visual and Performing Arts (VPA), will present works of the SUArt Galleries' exhibition "Drawn to Paint: The Art of Jerome Witkin" Sept. 7-Oct. 16. XL Projects is located at 307-313 S. Clinton St., Syracuse. The show is free and open to the public.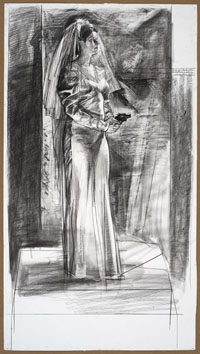 "Drawn to Paint" consists of 70 works–including drawings, paintings and sketchbooks–by Witkin, one of America's leading figurative painters and a longtime professor of painting in VPA's Department of Art. XL Projects will host an exhibition reception on Thursday, Sept. 15, from 6-8 p.m. in conjunction with Th3, Syracuse's city-wide art open.
"Drawn to Paint" will also be on view at SUArt Galleries on SU's main campus Sept. 8-Oct. 23. Dividing the show between the two venues allows for broader access and engagement within the community. The SUArt Galleries show is also free and open to the public, with an opening reception on Thursday, Sept. 8, from 5-7 p.m.
"Drawn to Paint" marks the first time Witkin has allowed his drawings to be displayed beside their finished works. Curator of the exhibition is Edward A. Aiken, associate professor and program coordinator of VPA's graduate program in museum studies in the Department of Design. "Drawn to Paint" will be traveling to other museums around the country during a two-year tour that will conclude at the Palmer Museum of Art in University Park, Pa.
"Jerome Witkin's command of the brush and finesse as a draftsman have established him as one of the pre-eminent artists of our time, keeping the style of figurative narrative painting relevant in contemporary art," says Domenic Iacono, director of SUArt Galleries. "'Drawn to Paint: The Art of Jerome Witkin' is more than a selection of masterfully painted narratives. Through the juxtaposition of drawings and sketchbooks, the exhibition represents a rare look into the artist's process, from the inception of an idea to the completed artwork."
Witkin's career as a professor at VPA spans four decades. He has known an enviable number of artists central to the development of 20th-century American painting, and he has studied the history of art with great care. Witkin brings all of this knowledge of drawing, painting and history to bear in the classroom studio, where he encourages and critiques his students. This exhibition celebrates Witkin's career as an artist-teacher, a dual role in which he has excelled.
The works of Witkin carry forward into our era the grand Western European tradition of history painting. His images offer dramatic narratives that reveal themselves over time. Many of his most interesting paintings are large multiple panels, each section presenting a different chapter of an unfolding story. Their scale pushes the viewer back to see the whole composition, while his brushwork encourages close examination to better admire the painting's surface.
While Witkin's painterly technique appears spontaneous, it is grounded in drawing. He is a highly skilled draftsman who enjoys drawing both for its own sake and as a way to work through the challenges of designing large compositions. Drawing allows Witkin to study various possibilities before committing brush to canvas. "Drawn to Paint" explores, for the first time, this crucial aspect of Witkin's process.
The works included in "Drawn to Paint: The Art of Jerome Witkin" come from galleries, private collections and museums across the country. Notable institutional lenders include the Munson-William-Proctor Arts Institute in Utica, N.Y.; the Memorial Art Gallery in Rochester, N.Y.; the Everson Museum in Syracuse; the Palmer Museum of Art in University Park, Pa., and Jack Rutberg Fine Arts in Los Angeles.
XL Projects is open Wednesday-Sunday, noon-6 p.m. The gallery may be contacted at (315) 442-2542 during gallery hours or e-mail Andrew Havenhand at ahavenhand@yahoo.com. Complete information and related programming is available at http://suart.syr.edu or on Facebook at https://www.facebook.com/pages/Drawn-to-Paint-The-Art-of-Jerome-Witkin/205701046108486.
Image accompanying this story is Bride-Noir, 2011, graphite and charcoal on paper, courtesy of Jack Rutberg Fine Arts, Los Angeles, Calif.