Veterans
When life gives you lemons … make a lemonade stand! Whitman hosts ninth annual Entrepreneur's Bootcamp beginning Oct. 8
When you were a kid growing up, you dreamed big. Your imagination ran wild and no idea was unattainable. As we age, we tend to lose that "entrepreneurial" spirit and the creativity that once drove us to create basement fort masterpieces or the neighborhood's most profitable lemonade stand. The need to hold a steady job and pay bills is instead at the forefront. Wouldn't the ultimate dream job be the one that you built from the ground up, from your own idea to setting your own work hours?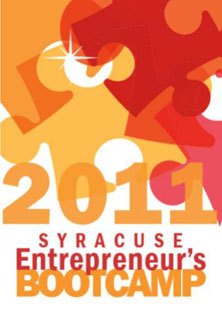 Entrepreneurship is a way to keep the creativity and passion for your work at the forefront, and it's also a viable career path! More than 14,000 businesses in a five-county radius of Central New York have less than 10 employees, representing more than 70 percent of total firms and more than 12 percent of total employment in the region, according to a fourth-quarter report from the U.S. Bureau of Labor Statistics.
Syracuse University's Entrepreneur's Bootcamp, a training program led by the Falcone Center for Entrepreneurship in the Whitman School of Management, aims to inspire participants to spark their entrepreneurial and creative spirit in a way similar to the excitement experienced when building forts or a lemonade stand as a kid. Through a series of modules and interactive sessions, the bootcamp assists current and aspiring entrepreneurs in developing the skills necessary to take their idea or existing venture to the next level. Now in its ninth year, the bootcamp runs for six consecutive Saturdays beginning Oct. 8 and concludes with a graduation ceremony on Nov. 12. The program is designed for new business owners, or those with a dream or idea. All that you need is a passion for starting a new challenge!
"The bootcamp was a life-changing experience for me. The sessions provide a wealth of information, and the most valuable assets were the connections with fellow entrepreneurs and the resources that Whitman provided during and after the program," says 2010 participant Leah Cahill, founder of TogaLu Designs. "These resources helped me build the foundation and confidence that I needed to take the next steps in developing my business and played a pivotal role in strengthening my position as an entrepreneur. The program can progress anyone's journey as an entrepreneur, whether you are looking to fine-tune specific aspects of an existing enterprise or have a desire to become a business owner."
Bootcamp classes are taught by a team of award-winning SU professors and feature guest entrepreneurs sharing stories of challenges and triumphs along their entrepreneurial journey. Throughout the program, one-on-one mentoring and coaching will be provided to participants by Whitman M.B.A. students. Topics covered during the program include business plans, marketing on a shoestring budget, financing a start-up, operations and logistics, and legal issues. Since the program's inception, more than 450 local entrepreneurs have been trained. Many are operating successful businesses today.
"The Syracuse Entrepreneur's Bootcamp provides training, access to resources and entrepreneurial tools for aspiring entrepreneurs who want to start a business, or those who have already started a business and need to sustain and grow it," says Mirza Tihic, Falcone Center program manager. "The training helps entrepreneurs grow their companies, adding value to CNY by creating new jobs, fostering innovation, inspiring others to pursue entrepreneurship, and contributing to the improvement of our local and national economy."
The Syracuse Entrepreneur's Bootcamp will be held at the Whitman School building, 721 University Ave. Tuition for the six-week program is $650, with a limited number of $200 scholarships available to qualified applicants. Sessions take place from 8:30 a.m. to 1 p.m. Space is limited. Click here to register or contact Lindsay Wickham, Falcone Center events and communications manager, at (315) 443-3550 or lwickham@syr.edu.
The Syracuse Entrepreneur's Bootcamp is made possible by the support of the Whitman School and the Central New York Business Journal.