Media, Law & Policy
SU College of Law welcomes Class of 2014
Orientation invites new students to intellectual, community engagement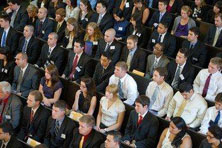 The Syracuse University College of Law welcomed its 115th first-year law class on Aug. 15 as 255 students arrived for a weeklong orientation program. The week's activities include a formal convocation with Melanie Gray L'81, a member of SU's Board of Trustees and executive committee member of the College of Law Board of Advisors, and College of Law Dean Hannah R. Arterian. Orientation session topics include faculty panel discussions, sessions on professionalism and building professional networks, managing finances and interdisciplinary study, as well as small group meetings with 20 alumni who returned to campus. A session for family members (parents, partners and other family members) was included again in this year's program.
As part of orientation, on Friday, Aug. 19, the entire College of Law entering class, as well as staff members from the Offices of Student Life, Admissions & Financial Aid and Professional & Career Development will be working at the Matthew 25 Farm in Tully to volunteer harvesting crops and preparing for distribution to local food banks and families in the Syracuse community.
Entering law students come from 30 states. While the average student age is 24, the range in age spans almost 35 years. Females represent 43 percent of the first-year class, while students of color account for 23 percent. Close to 53 percent of the students are non-New York state residents representing 148 undergraduate colleges and universities; 7 percent have advanced degrees.
"We are excited for the start of a new year and proud to welcome these students to both the SU and College of Law communities," says Nikki Laubenstein, director of admissions for SU College of Law.