Media, Law & Policy
Social media expert William J. Ward, a.k.a. 'DR4WARD,' joins faculty of SU's Newhouse School
William J. Ward, a.k.a. "DR4WARD," has joined Syracuse University's S.I. Newhouse School of Public Communications as a professor of practice in social media.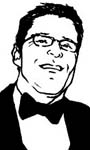 "Bill is a master at staying on top of the rapid changes in the communications industry," says Newhouse Dean Lorraine Branham. "His expertise in digital and social media, together with his academic background and teaching skill, make him an incredible asset to our faculty. We look forward to his leadership in social and new media education–on campus and beyond."
"Classrooms are as big as we allow them to be," Ward says. "Keeping up with change and innovation requires constant hands-on experimentation. I want to create a sense of fun and adventure to help people be fearless in trying new things and by seeing trial-and-error as part of the learning experience."
A consultant on integrated marketing communications and 360 degree branding diagnosis and prognosis, he curates content and discusses digital, marketing, advertising, public relations, social media, journalism, higher education, innovation, creativity and design on his blog at DR4WARD.com.
He was ranked one of the Top Marketing Professors in the World on Twitter by Social Media Marketing Magazine for providing useful content and consistently engaging with his followers and "getting it" when it comes to the best ways to use Twitter and other forms of social media. His presentation "Teaching with Twitter" has been featured on Slideshare's "What's Hot on Twitter" list.
He is an American Marketing Association Hugh G. Wales Outstanding Faculty Advisor of the Year and is a past board member of the American Marketing Association of West Michigan and the Rochester American Marketing Association. He is also a reviewer for the American Journal of Business and the Association for Education in Journalism and Mass Communication on special topics in new media and emerging technologies.
He has developed international study abroad programs that have been recognized for innovation and creativity, with more than 200 students participating.
He has taught at Western Michigan University's Haworth College of Business; Alfred University's College of Business; the University of Michigan's Ross School of Business; China University of Geosciences' College of Information Management; the American University of Rome in Italy; the Cannes Lions International Advertising Festival in France; Michigan State University's College of Communication Arts & Sciences; Grand Valley State University's Seidman College of Business; and Ferris State University's College of Business.
He consults with and has built relationships through client class projects and various speaker series with Fortune 500 companies such as Asgrow, Bank of America, Burger King, Chevrolet, the Detroit Red Wings, JetBlue, Kodak, Meijer, Microsoft, Nike and Ogilvy. He has also received several Addy Awards for creative and strategic excellence.
He is a frequent speaker at conferences and seminars, and has been quoted in such media outlets as The Wall Street Journal, USA Today, The New York Times, The Christian Science Monitor, The Cannes Lions Daily and the Associated Press Wire.
Ward earned a bachelor's degree in advertising and public relations and a master's degree in communications at Grand Valley State University and a Ph.D. in media and information studies at Michigan State University.