University will mark 9/11 anniversary through series of activities
Syracuse University will mark the 10th anniversary of the Sept. 11, 2001, terrorist attacks on the United States in several ways—with an interfaith service in Hendricks Chapel; an exhibition of "SU Remembers: The 9/11 Sheets of Remembrance;" a service project launch and panel discussions on the impact of the tragedy 10 years later.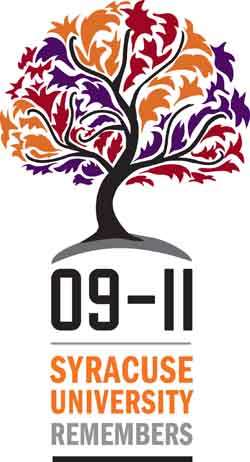 "Syracuse University's commitment to Scholarship in Action calls us to construct a series of events that not only mark the anniversary of the attacks on Sept. 11, but call us forth to engage our world, that we might create a place where events like these are no more," says Tiffany Steinwert, dean of Hendricks Chapel. "While we strive to honor the memory of all that was lost that day, we also hope to engage our community in critical reflection about the meaning of this event in not only our nation's history, but in the wider global community so that we might move forward into a future with hope. By launching our year-long engagement initiative, Better Together, during this weekend, we hope to invite our community to a continued celebration of unity and peace, rather than a one day moment of silence. September 11 calls us all to act on behalf of our communities and our world."
Information on the events is listed below, and can also be found on the web at http://www.syr.edu/september11 and on Twitter at #911syracuseu. Call Hendricks Chapel at 443-2901 for more information.
Service of Remembrance and Hope
A Service of Remembrance and Hope will be held on Sunday, Sept. 11, at 2 p.m. in Hendricks Chapel and is open to the SU and greater Syracuse communities. Parking will be available in the lots surrounding Hendricks Chapel (Q1, Q3, Q4, Waverly and Hillside). A reception will follow on the Kenneth A. Shaw Quad, where guests will have the opportunity to share their thoughts on sheets to be added to the "SU Remembers: 9/11 Sheets of Expression" collection maintained by SU Archives.
The service will feature an interfaith prayer created by the Hendricks Chapel Chaplains' Council; musical selections performed by the Syracuse University Brass Ensemble, Hendricks Chapel Choir; Black Celestial Choral Ensemble and Syracuse Children's Chorus. Remembrances and reflections will be offered by Thomas V. Wolfe, senior vice president and dean of student affairs, and Laura E. Beachy, a senior and a Remembrance Scholar.
The symbol chosen for the event is A Tree of 40 Fruit, a piece from the living garden of current work by Sam Van Aken, associate professor in the College of Visual and Performing Arts. Van Aken's trees begin singularly with one identity and are developed through a process of budding and grafting to accept, nurture and produce branches yielding different fruit. Each branch feeds from the same source, yet produces its unique bounty—symbolizing and commemorating the success of acceptance, a sign of hope and renewal.
As the tree matures, it will produce more than 40 different types of fruit from the family of stone fruits, including peach, plum, apricot, nectarine and cherry. Blossoming in variegated tones of white and pink in early spring and yielding an abundance of fruit throughout the summer, the tree becomes a metaphor for themes reflecting acceptance, globalism and multiculturalism.
After the Sept. 11 service, A Tree of 40 Fruit will be planted on the Quad to serve as a remembrance of the victims of Sept. 11, 2001, and as a continuing sign of hope and renewal to the SU community.
SU Remembers: The 9/11 Sheets of Expression
On the evening following the terrorist attacks of Sept. 11, 2001, SU students, faculty and staff gathered around oversized white sheets on the Quad in front of Hendricks Chapel. On these sheets, supplied by the Student Association, they placed their thoughts and feelings. Some used the words of Anne Frank, Albert Einstein, John Lennon, Martin Luther King Jr. and Gandhi, while others penned original compositions.
These sheets, now known as the Sheets of Expression, were hung from the balcony in Hendricks Chapel for the first anniversary in 2002. A second set of sheets was created during SU's "One Year Later" commemoration program so that the University community could reflect on the events and aftermath of the previous year. The sheets were donated to the University Archives by Student Affairs after the 2002 services, and the Archives is now their permanent home.
A piece from the 2001 Sheets of Expression will be on display in the White Cube Gallery, located off the Panasci Lounge in the Schine Student Center, from Monday, Sept. 5, through Thursday, Sept. 15. Selected panels from the 2002 Sheets of Expression collection will also be on display at Lubin House in New York City; Greenberg House in Washington, D.C.; and at the SU Center in Los Angeles from Sept. 5-15.
Better Together
In the years that have followed, Sept. 11 has become a day not simply to remember, but to act. Since 2002, people have gathered on this day to engage in acts of community service. In 2009, President Barack Obama officially designated Sept. 11 as a National Day of Service and Remembrance.
Created by the national organization Interfaith Youth Core, Better Together for 9/11 is a response to President Obama's Interfaith and Community Service Challenge, a program designed to strengthen interfaith and multicultural bonds in the United States. The initiative calls for students on campuses around the country, from all faiths and backgrounds, to engage in dialogue and take action to improve their communities. SU is participating this year in the Interfaith Community Service Challenge, with several educational and action projects planned around the issue of hunger.
Syracuse University's 8th Annual Juice Jam will be held on Sunday, Sept. 11, at 4 p.m. on South Campus' Skytop Field. This event, traditionally held on the Sunday after Labor Day, has been designated as a benefit concert in commemoration of the Sept. 11, 2001, terrorist attacks and a platform for launch SU's involvement in the Better Together for 9/11 initiative. SU's Division of Student Affairs will host a Student Involvement Fair throughout the event.
The concert is sponsored by University Union and the Division of Student Affairs. A portion of the proceeds of the concert will go toward famine relief in the Horn of Africa through the United Nations' World Food Programme.
Concert-goers will also be asked to bring canned food donations to benefit the InterReligious Food Consortium, which distributes food to more than 70 local pantries. Canned goods can be exchanged for concert memorabilia. Students are asked to donate tuna, canned soup, peanut butter, canned fruit and beans. All of the canned goods will be stocked and available at the SU Bookstore in the Schine Student Center. Students can purchase canned goods and donate them at tables in the Schine the week prior to Sept. 11.
While at the concert, students can stop by the tables of interfaith and service organizations at the involvement fair, where they can sign up to take part in future service opportunities across the city and region.
9/11 Panel Discussions
Hendricks Chapel will also sponsor a series of panel discussions focusing on the impact of the 9/11 tragedy. All events will be held from 6-7 p.m. and are free and open to the public. They will include:
Monday, Sept. 12, in Room 214 of the Hall of Languages—"to "Whose Memories Count? Rethinking Trauma, Patriotism and Citizenship in the Post 9/11 U.S." Panelists will include Carol Fadda-Conrey, assistant professor of English in The College of Arts and Sciences (A&S); Jackie Orr, associate professor of sociology in the Maxwell School of Citizenship and Public Affairs, Karl Solibakke, assistant dean in A&S; and Silvio A. Torres-Saillant, professor of English in A&S.
Tuesday, Sept. 13, in the Hendricks Chapel Noble Room—"Creativity After the 11th." A panel discussion exploring the role of the arts in constructing and shaping public memory, led by Anne Beffel, associate professor in the School of Art and Design in College of Visual and Performing Arts (VPA); Sam Van Aken, associate professor in the School of Art and Design in VPA, and Bradford J. Vivian, associate professor of communication and rhetorical studies in VPA.
Wednesday, Sept. 14, in the Hendricks Chapel Noble Room—"Living in the Aftermath: Negotiating Trauma." Panelists will include Jennifer Baskerville-Burrows, SU's Anglican/Episcopal chaplain; Laura Beachy, a senior and Remembrance Scholar; Colleen O'Connor Bench, director of SU's Parents Office; Ismail Pathan, a junior; and Cory Wallack; director of the SU Counseling Center.
Thursday, Sept. 15, in the Hendricks Chapel Noble Room—"The Media and 9/11: Then and Now." Panelists will include Joan Alice Deppa, associate professor in the S.I. Newhouse School of Public Communications; Harvey M. Teres, associate professor of English in A&S; David Rubin, dean emeritus of the Newhouse School; and Tazim Kassam, associate professor of religion in The College of Arts and Sciences.