Media, Law & Policy
Newhouse School welcomes new faculty
Syracuse University's S.I. Newhouse School of Public Communications welcomes five new faculty members this fall: Keith Giglio (television-radio-film); Guy Golan (public relations); Simon Perez (broadcast and digital journalism); James Shahin (magazine); and William J. Ward (communications).
"We are delighted to call these incredibly talented individuals our own," says Newhouse Dean Lorraine Branham. "They will bring so much to our students, and to the school."
Keith Giglio

Screenwriter and producer Keith Giglio has worked on such projects as "Joshua," "Noah," "Return to Halloweentown," Walt Disney's "Tarzan," "Pizza My Heart," "A Cinderella Story" and "Another Cinderella Story." He has written for Paramount, Walt Disney, Universal, Warner Brothers, Spyglass, Walden, Tokyopop and Platinum Studios. His sci-fi television pilot is in development, and he recently sold a TV pilot titled "Mercy Air." His book, "Writing the Comedy Blockbuster," is due for publication in 2012.
A member of the Writer's Guild of America, he is also president of Laughing Gas Productions, which works with non-established screenwriters. He was previously a narrative designer on video games for Spinmaster Entertainment, and a writer's assistant to Andy Breckman ("Saturday Night Live," "Monk").
He has taught classes in writing and screenwriting, and was named UCLA Extension's Instructor of the Year in 2009. He earned a bachelor's degree in English from Wagner College and an M.F.A. in film and television from New York University.
Follow him on Twitter at @KeithGiglio.
Guy Golan

Guy Golan teaches courses in public relations and public diplomacy. His research focuses on public diplomacy and media effects, as well as political and international communications.
He has published more than two dozen research articles in such journals as Communication Research, Journalism & Mass Communication Quarterly and Mass Communication & Society, and edited the book "International Media Communication in a Global Age" (Routledge, 2009).
Golan earned his bachelor's and doctoral degrees from the University of Florida and a master's degree from New York University. Before entering academia, he worked as a political communication professional.
Follow him on Twitter at @GuyGolan.
Simon Perez

Award-winning bilingual reporter Simon Perez is a 20-year news industry veteran. His professional experience includes work in television (KPIX CBS 5 in San Francisco; WRIC ABC 8 in Richmond, Va.; WGXA Fox 24 in Macon, Ga.; and Canal de Noticias, NBC NewsChannel in Charlotte, N.C.), newspaper (ABC Prensa Española in Madrid; Daily News-Record in Harrisonburg, Va.; and Danville Register & Bee in Danville, Va.) and magazine (Macworld/España in Madrid). He also served as a reporter for the Atlanta Committee for the Olympic Games in 1996.
He is a recipient of 2007 and 2008 Northern California Emmy Awards for best evening and daytime newscasts, and attended the Knight Digital Media Center's Multimedia Reporting and Convergence Workshop at the University of California at Berkeley.
He earned a bachelor's degree from Washington and Lee University, and a master's degree from Universidad Complutense in Madrid.
Follow him on Twitter at @SimonPerez1.
Jim Shahin

Jim Shahin writes the nationally syndicated column and blog "Smoke Signals," which focuses on the food and culture of barbecue, for the Washington Post. He was previously a staff reporter with the Austin American-Statesmen; politics editor with the Austin Chronicle; senior editor and columnist with American Way magazine; and columnist with Chile Pepper Magazine.
He has been a freelance writer for more than 15 years, with work published in GQ, The Wall Street Journal, Texas Monthly, Parents, the Village Voice, Spin, Cooking Light and the Saturday Evening Post, among others.
He has been a visiting assistant professor at the Newhouse School several times, teaching courses in magazine article writing and editing and critical writing.
He is the recipient of the Women in Communications Clarion Award for best opinion column; the Press Club of Dallas Katie Award for best magazine opinion/essay; the Society of American Travel Writers Foundation Lowell Thomas Award Bronze Medal for best article-land travel; and the Western Publishing Association Maggie Award for best feature story and best news story.
He earned a bachelor's degree from the University of Michigan.
Follow him on Twitter at @j_shahin.
William J. Ward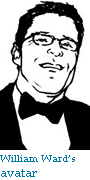 William J. Ward—a.k.a. "DR4WARD"—is a consultant on integrated marketing communications and 360-degree branding diagnosis and prognosis. He curates content and discusses digital, marketing, advertising, public relations, social media, journalism, higher education, innovation, creativity and design on his blog at DR4WARD.com.
He was ranked one of the Top Marketing Professors in the World on Twitter by Social Media Marketing Magazine for providing useful content and consistently engaging with his followers and "getting it" when it comes to the best ways to use Twitter and other forms of social media. His presentation "Teaching with Twitter" has been featured on Slideshare's "What's Hot on Twitter" list.
He has taught at Western Michigan University's Haworth College of Business; Alfred University's College of Business; the University of Michigan's Ross School of Business; China University of Geosciences' College of Information Management; the American University of Rome; the Cannes Lions International Advertising Festival in France; Michigan State University's College of Communication Arts & Sciences; Grand Valley State University's Seidman College of Business; and Ferris State University's College of Business, and has developed international study abroad programs that have been recognized for innovation and creativity, with more than 200 students participating.
He earned a bachelor's degree in advertising and public relations and a master's degree in communications from Grand Valley State University; and a Ph.D. in media and information studies from Michigan State University.
Follow him on Twitter at @DR4WARD.
In addition, award-winning art director and designer Deborah Pang Davis (http://www.cococello.com/deb-pang-davis) will join the Department of Multimedia Photography and Design in January.