Campus & Community
Hendricks Chapel leads national efforts to give back on Sept. 11
In 2009, Congress officially declared Sept. 11 to be a day of National Service and Remembrance during which it urged all citizens to join together in acts of community service. This year marks the 10th anniversary of the attacks on Sept. 11, 2001, and Hendricks Chapel, along with faculty, staff, and student and community organizations, are mobilizing efforts to make a big impact on this important day.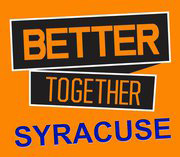 Beginning at 2 p.m. on Sunday, Sept. 11, Hendricks Chapel is hosting an interfaith service of Remembrance and Hope. The service includes participation by SU Brass, Hendricks Chapel Choir, Black Celestial Choral Ensemble and the Syracuse Children's Chorus, as well as speeches from Hendricks Chapel Chaplains' Council and other campus members. Hendricks will also lead the Acts of Kindness Project, which is part of the communitywide effort led by Women Transcending Boundaries, known as Acts of Kindness Weekend (A-OK).
The A-OK Weekend promotes opportunities for community engagement to honor those who gave their lives on 9/11 with acts of kindness throughout the Central New York region. In its second year, the A-OK Weekend is designed to build community and help individuals and organizations link up to make neighborhoods healthier, safer and more hospitable. To get involved in the A-OK weekend, visit http://www.wtb.org.
Later in the fall, as a symbol of unity and diversity, Hendricks Chapel will be installing the Tree of 40 Fruits on the Kenneth A. Shaw Quad. This single fruit tree is an allegorical sculpture with a narrative yet to be written. It will grow more than 40 types of fruit and transform the site it is planted in by sparking dialogue across differences. It also serves as a gentle reminder of our reverence for the day. The Tree of 40 Fruits is part of a living experiment by Sam Van Aken, associate professor in the College of Visual and Performing Arts.
This year's Juice Jam, which is an event historically held on the Sunday after Labor Day, falls on the 10-year anniversary of 9/11. In honor of this day, concert organizer University Union is partnering with Hendricks Chapel's Interfaith Student Council to kick off a campuswide campaign, titled "Better Together," at the concert. The "Better Together" campaign is a national initiative designed to engage large numbers of students in both raising funds and participating in community service projects that strive to make the world a better place. The Interfaith Student Council's campaign focuses on addressing the issue of hunger both locally and globally, and along with the Juice Jam serving as a food drive, a portion of the concert proceeds will benefit a local hunger-related nonprofit. SU student veterans will also receive a free ticket to the concert.
As part of President Obama's Interfaith and Community Service Campus Challenge, SU is competing with 300 other colleges and universities across the country to mobilize students to take action on this issue. Juice Jam, which draws nearly 8,000 students, provides an opportunity for students to participate in the campaign and give back on this historic day. In addition to being a benefit concert, Juice Jam allows more than 100 student organizations to share their information and recruit new members.
For more information on the Hendricks Chapel events, contact dean Tiffany Steinwert at 443-2901. For information on Juice Jam, contact Dave Sargalski, director of Student Activities, at 443-2718. Or find out more about the events by visiting the Facebook page, http://www.facebook.com/pages/Better-Together-Syracuse/216303055088874?v=wall.