Arts & Culture
Industrial and interaction design students explore board games in 'Game On!' at Design Gallery
Most of us remember playing board games as young children. We not only mastered strategy and spatial recognition—if we were lucky, we learned diplomacy, teamwork and how to be a gracious winner and a good loser. Early games date back to 3500 B.C. and new ones are still being developed today. Simple boards and game pieces may take a back seat to technology and electronics, but the gameplay can be just as exciting.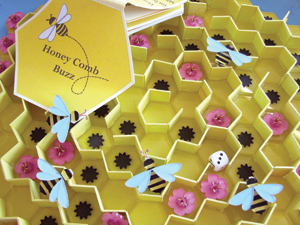 Second-year industrial and interaction design students in the College of Visual and Performing Arts' (VPA) Department of Design explore the genre of board games in "Game On!," an exhibition that will run Sept. 8-22 at the Design Gallery at The Warehouse, first floor, 350 W. Fayette St., Syracuse. The show is free and open to the public. Gallery hours are daily, 10 a.m.-5 p.m.
The students worked on the project as part of the course "Principles of Industrial Design II." They began the assignment by understanding what made an activity interesting to a group of people and worked their way to the creation of compelling objects.
For more information, contact Denise Heckman, associate professor of industrial and interaction design, at daheckma@syr.edu.