Health & Society
Falk Professor publishes first novel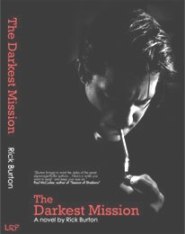 Combining historically accurate military and espionage details, David B. Falk Professor of Sport Management Rick Burton '79 published his first novel this spring: a thriller that spans two generations of complicated intrigue and dark double-crosses.
Published by Long Reef Press, "The Darkest Mission" follows the crew of a doomed 100th Bomb Group B-17 bomber through a 50-year odyssey targeting one of America's most honored public figures. With a whirlwind plot, it falls to a South Boston detective, turning to an NFL-linebacker-turned-priest, to explain one clue (a Bible verse that does not exist). It leads to a series of gritty homicides and a puzzle-filled plot that ends with a blazing conclusion.
Burton notes inspiration for the novel dates back to the early 1980s when he worked in public relations for Miller Brewing Company. At that time, he received a letter from a radio operator from a B-17 and it was the 40th anniversary of their last flight. They had named their B-17 after the Miller High Life product and back in the '40s, the Miller High Life logo was a girl sitting on a crescent moon.
"The letter asked if we would be interested in helping them get together for a reunion. So it was kind of an early day sponsorship. I put it together and fell in love with the B-17 and the concept of 10 guys in a plane all having to work together as a team. I had this big sports background and I thought to myself, 'I'd love to create a story that has a B-17 in it.' I think that's the earliest genesis of where this book comes from," says Burton.
"The Darkest Mission" is available at the SU Bookstore, Amazon.com, BN.com and Lulu.com