Campus & Community
Colorfornia: New Forms in West Coast Street Art: Apex, Chor Boogie and Jet Martinez
The Warehouse Gallery, 350 W. Fayette St., ground floor, Syracuse, NY 13202
Tel 315.443.6450; Fax 315.443.6494; Website: thewarehousegallery.syr.edu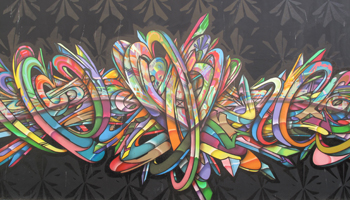 Open and free to the public. Gallery hours: Tue-Sat noon- 6PM; th3 noon -8 p.m.; closed on holidays. Limited parking is available in The Warehouse Lot (WHSE), call SU Parking Services for details (315) 443-4652. The gallery is on the Connective Corridor Free Shuttle Route, see Centro#543. For more information, visit http://thewarehousegallery.syr.edu
SEPT. 15 THROUGH OCT. 29
OPENING RECEPTION: SEPT. 15, 5–8 p.m. Artists will be present.
Lecture at 7 p.m.
WINDOW PROJECTS AT THE WAREHOUSE GALLERY, VIEWABLE 24/7
EXHIBITION TITLE: "Oscar Garces; Transcendence"
Cuban-born and Syracuse-based artist Oscar Garces' site-specific mural in the Window Projects space will offer a local echo to "Colorfornia: New Forms in West Coast Street Art". This is his first solo exhibition. Both exhibitions will be organized in conjunction with the Hispanic Heritage Month celebrations in Syracuse.
MAIN GALLERY
EXHIBITION TITLE: "Colorfornia: New Forms in West Coast Street Art: Apex, Chor Boogie and Jet Martinez"
This fall/winter, the Warehouse Gallery's exhibitions focus on the medium of painting. Placing street art, by definition a public art form, in the more formal space of the Warehouse Gallery offers the opportunity for a new perspective on the role and place of street art, specifically the pivotal role of street art in California. All three artists have contributed significantly to public art in San Francisco, San Diego and other major cities nationally (Minneapolis and Washington, D.C.) and internationally (Beijing, Dubai, Sydney and Tokyo).
Website: http://thewarehousegallery.syr.edu
Contact: The Warehouse Gallery
whgpress@syr.edu
315.443.6450