Arts & Culture
College of Visual and Performing Arts appoints Patrick Jones new Setnor School of Music director
Syracuse University's College of Visual and Performing Arts (VPA) has announced that conductor and scholar Patrick M. Jones has been named director of the Rose, Jules R. and Stanford S. Setnor School of Music.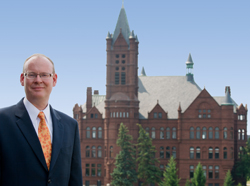 Jones, who assumed the duties of director on July 1, is responsible for the creative and academic leadership and vision of the Setnor School, including oversight of administration, artistic planning and marketing; strategic direction, governance and curricular processes; recruitment of new faculty, staff and students; and faculty development and mentoring. He is also a professor of music.
Jones succeeds interim co-directors James Tapia and Andrew Waggoner, who will return to their roles on the Setnor faculty.
"Patrick's energy, enthusiasm and professionalism will undoubtedly inspire Setnor School of Music students, faculty and staff throughout the upcoming academic year," says Ann Clarke, dean of VPA. "In his short time at Syracuse he has embraced our cultural community and the important role music and musicians play in it. This, coupled with his impressive career as a music educator and conductor, makes him the ideal leader for the Setnor School."
Jones has enjoyed an international career as a conductor of military and youth bands and is conductor emeritus of Sinfonisches Blasorchester Eifel-Ardennen. He has presented workshops and scholarly papers internationally on a variety of topics, including music education history, curriculum and policy; is a contributing author to several books; and is a member of the editorial boards of the "International Journal of Community Music" and "Visions of Research in Music Education."
Jones has served as an officer and board member of various professional organizations and is currently national chair of the National Association for Music Education's History Special Research Interest Group. He is a member of the policy commission of the International Society for Music Education and is on the board of the Internationale Gesellschaft zur Erforschung und Förderung der Blasmusik. In addition to his academic career, he is a colonel in the Air National Guard and chief of Air National Guard Bands.
Jones holds a bachelor of science degree cum laude in music education from West Chester University, a diploma of fine arts in conducting and wind literature from the University of Calgary in Canada, a master of arts degree in conducting from George Mason University and a doctor of philosophy degree in music education from Pennsylvania State University.