Arts & Culture
New initiative from VPA, the Araca Group fosters emerging theater artists' entrepreneurial spirit
Up-and-coming theater artists anxiously awaiting their big break in the industry now have a new way to enhance their professional development. The Araca Project, a new initiative of the Department of Drama in Syracuse University's College of Visual and Performing Arts (VPA), and the Araca Group, one of New York City's leading entertainment production and merchandising companies, gives selected theater artists the opportunity to take on the full artistic and fiscal responsibilities of producing their work off-Broadway.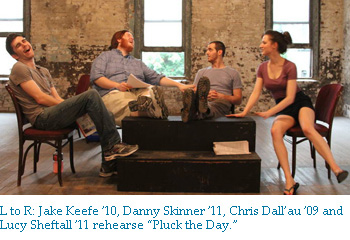 Through the Araca Project, artists take initiative and assume the responsibility of a producer, including securing production rights from an author, casting, rehearsing, assembling design elements, raising capital, engaging a creative team, loading in and out a physical production, budgeting, marketing and maintaining a box office/ticketing system. The Araca Group, in conjunction with SU, is mentoring the artists as they move into production; however, the artists are responsible for running their shows.
"The Araca Project is a groundbreaking partnership between a university department and a major producing organization in support of early-career alumni," says Ralph Zito, chair of the Department of Drama. "In an industry that is, by its nature, an entrepreneurial endeavor, SU Drama students are very lucky to have access to a large network of dedicated alumni who understand the value of supporting emerging artists and advancing the art of theater."
"We hope that the Araca Project will provide emerging theater artists the opportunity to shape their artistic destinies and engage their entrepreneurial spirit," says Michael Rego '90, who founded the Araca Group with Hank Unger '90 and Matthew Rego. "We are thrilled to partner with Syracuse University and look forward to the future of this exciting endeavor."
Submissions for the inaugural season of the Araca Project were accepted beginning last fall and through mid-March. SU alumni and participants in VPA's New York City Tepper Semester between the classes of '07 and '11 were invited to submit projects from all sectors of performance, from original plays to solo dance pieces. Projects could be submitted by teams or individuals.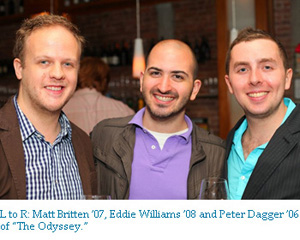 Sixteen teams of approximately 70 alumni applied and pitched their projects in April to a panel from VPA and the Araca Group, including Zito; James Clark, a professor of drama and VPA associate dean of assessment and accreditation; Lisa Nicholas, director of VPA's Tepper Center for Careers in Theatre and director of creative development for the Araca Project; Michael Rego; Matthew Rego; Unger; and Danielle von Gal, a 2009 graduate of the Department of Drama's acting program who serves as executive producer of the Araca Project, as well as a full-time production associate for the Araca Group.
The panel selected four winning projects to advance to the two-week Araca Project Producing Intensive in June, an essential component of the initiative. Sponsored by the Department of Drama and open to all participating producing team members, this educational/immersion experience gives each young artist/producer the opportunity to learn about the essential elements of producing a show from leading theater producers and industry professionals. Designed to give team members access to knowledge and skills that will support them in successfully producing their projects, the 2011 workshop included such topics as "Creative Producing," "Press and Marketing," "Shaping New Work," "Producing Under the Showcase Code," "Raising Your Profile Off-Broadway," "Casting a Show," "Fundraising," "Budgeting" and "How To Effectively Run a Box Office."
Prominent guest artists of this year's Producing Intensive included Broadway and off-Broadway producers, general managers, artistic directors, box office managers and venue directors. In addition, at the end of each workshop day an open forum was held at the Araca Group offices with Michael Rego, Unger, Matthew Rego and other members of the company who answered questions and engaged in discussion.
The Producing Intensive culminates this fall starting Sept. 8, when the selected artists will produce 16 performances of each of the four works at the American Theatre of Actors, 314 W. 54th St., New York City. Show times and ticket information will be announced at http://www.araca.com when available.
The winning projects and performance dates are:
"Pluck the Day" (Sept. 8-18) by Steven Walters; produced by Lucy Sheftall '11 and Danny Skinner '11;
"The Tramaine Experience" (Sept. 22-Oct. 2) by Tramaine Montell Ford '06; produced by Ford, Gette Levy '10, Evan McGee and Rainey Cruz;
"Peter and I" (Oct. 6-16) by Matte O'Brien '04 and Matt Vinson; produced by Alex Alcheh '11, Emily Batsford '11, Justin Nichols '11 and Patrick Murney '09; and 
"The Odyssey"(Oct. 20-30), with music by Dimitri Landrain and book by Matt Britten '07; produced by Britten, Peter Dagger '06, Amy Newhall '08, Evan Gannon '10, Megan Moriarty '09, Nicki Miller '07, T.V. Alexander '07, Beth Bloomfield '08 and Abby Saviteer '07.
Dana Li, a 2011 graduate of the Department of Drama's stage management program, will serve as production manager for the 2011 Araca Project season. Li, who interned for the Araca Group prior to graduating from SU, will work on preproduction as well as the run of the four shows.
Each project selected for the Araca Project season receives an investment from the Araca Group that matches the capital raised by the selected artists. The final capitalization for each project is approved by the Araca Group on an individual project basis.
Application information and submission deadlines for the 2012 season of the Araca Project will be announced this fall after the 2011 season has concluded. For more information about the Araca Project, contact Nicholas at lnichola@syr.edu or von Gal at danielle@araca.com.
The Araca Group launched in 1997 with a simple mission: to produce the work of emerging playwrights off- and off-off-Broadway. The group soon established a reputation as a leading theatrical production company; its inaugural Broadway undertaking, the critically acclaimed "Urinetown: The Musical," received numerous major awards, including three Tonys. Other Araca productions included "Frankie and Johnny in the Clair de Lune," the blockbuster musical "Wicked," Arthur Miller's "A View from the Bridge," "Lend Me a Tenor" and "Rock of Ages." In addition, Araca is now the largest screen printing and merchandising company on Broadway and strives to transform the live entertainment experience with innovative apparel, souvenirs and licensed products. Learn more at http://www.araca.com.