Media, Law & Policy
Partnership with alumni-owned agency leads to establishment of Dubai Internship Program
A student and a recent graduate of Syracuse University's S.I. Newhouse School of Public Communications spent six weeks in Dubai this summer, interning at TBWA/RAAD, an advertising and public relations agency run by SU alumnus Reda Raad '95.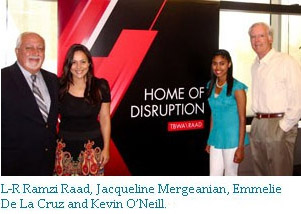 Emmelie De La Cruz and Jacqueline Mergeanian '11 arrived in Dubai May 19 and stayed through July 1, working on account management tasks. De La Cruz is a senior public relations major from Bronx, N.Y.; Mergeanian, a native of Costa Mesa, Calif., graduated from SU this past May with a bachelor's degree in advertising.
Kevin O'Neill, professor of practice in advertising at Newhouse, is director of the Dubai Internship Program. "The single, most valuable skill in the advertising business is the ability to imagine lives unlike your own," he says. "This experience at TBWA/RAAD in Dubai—arguably the most diverse city on earth—will develop precisely that skill and prepare students for the global marketplace that awaits them."
Says Raad: "All of our interns get hands-on experience with real work on real clients. They get to rotate around the different departments and get exposed to live client issues."
De La Cruz worked with the Ketchum Raad Middle East division of the company, where she was assigned to the PepsiCo account team, and also worked with the AstraZeneca team. "This internship was a once-in-a-lifetime experience," she says. "I know it will help me get my foot in the door at one of the top global firms."
Mergeanian worked on accounts for the Dubai Shopping Festival, ADS Securities and Nissan, and learned about the company's model of Disruption. "I was interested in learning the logistics of how the world of advertising is conducted in the Middle East in comparison to the U.S.," she says. "The people in the agency were beyond wonderful. From the beginning, they were very gracious and made me feel at home."
The Dubai Internship Program was developed by Raad in collaboration with Newhouse Dean Lorraine Branham. De La Cruz and Mergeanian were the agency's first interns from SU. They were chosen from a pool of 55 applicants, based on GPA, faculty recommendations and personal essays explaining why they wanted to participate in the program. The agency covers all internship expenses except for air fare and other transportation.
TBWA/RAAD was founded by Reda Raad's father, Ramzi Raad, a legendary figure in the industry. "Reda has been an active Syracuse University alumnus and he initiated this program for us," says the senior Raad. "We have always been keen to take young interns, being great believers that learning is a two-way street. We help interns to have a hands-on experience of the real-life workplace, and they open our eyes to new ways of doing things." Ramzi's other two sons, Rani and Rayan, also attended SU.