Campus & Community
SU students report on their summer experiences
The reports are coming in. SU students stationed all over the globe are reporting in real time on their summer plans, through video and blog, on the OrangeReport Web site. From volunteer assignments in Israel and Mozambique, to internships in Massachusetts and Syracuse, students are sharing with the campus community and beyond how they are applying their SU experiences to the world. To read their reports, visit http://orangereport.syr.edu/.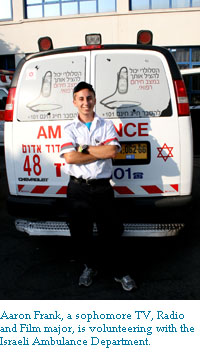 OrangeReport is a fun, easy way for students to share their stories, document their learning process and create a presence in the viral world. Plus, just by sharing students can win prizes, such as VIP treatment at a University Lecture Series of their choice. All SU students are encouraged to participate and can sign up at http://orangereport.syr.edu/sign-up/. Guidelines on the submission process are available at http://orangereport.syr.edu/help/.
The Division of Student Affairs launched OrangeReport in July 2011 in an effort to empower SU students to be their own "news reporter," by creatively telling Scholarship in Action stories through multimedia platforms. For more information on OrangeReport, contact Jill Ouikahilo, communications director for the Division of Student Affairs, at jcouikah@syr.edu or 443-8568.