Arts & Culture
Light Work to exhibit '[hyphen] Americans'
Light Work has announced the exhibition "[hyphen] Americans," to run Aug. 8-Oct. 14, with a gallery reception Oct. 6 from 5-7 p.m. The exhibition features stunning tintype portraits created by photographer Keliy Anderson-Staley.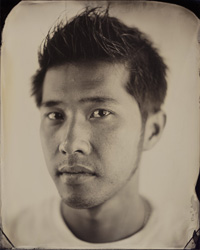 The exhibition title speaks to the multicultural character of American identities (Irish-American, African American, etc.). Although a person's heritage might be inferred by looking at their features and clothing, viewers of Anderson-Staley's work are encouraged, according to the artist, "to suspend the kind of thinking that would traditionally assist in decoding these images in the context of American identity politics."
Anderson-Staley makes portraits with the 19th-century wet-plate collodion process. She uses wooden view cameras, 19th-century brass lenses and chemicals she hand-mixes according to the traditional formulas. In this series, she focuses on just one plane in the face—usually just the eyes. The exposures are long, lasting anywhere from 10-60 seconds, so the images capture a full moment of thought. Because of these characteristics of the process, there is an introspective quality to each portrait, as if each person has been caught looking at himself or herself in a mirror.
According to the artist, "There are so many technical variables in the process, and there can be flaws and defects that enter the image at every stage of the process, and in many ways this makes it a perfect vehicle for portraits—it is truer to the reality of human imperfection. My images are titled only with the first name of the individual, and I very deliberately try not to draw attention to differences like race, because I want to challenge photography's role in defining difference. At the same time, I want every person I photograph to stand out very sharply as an individual, to be defined as much as possible by the expression on their face."
The portraits in the Light Work exhibition are mostly individuals from the broader Syracuse community photographed during Anderson-Staley's residency in 2010. This collection of tintypes, numbering more than 100, is thus as much a portrait of a diverse community as it is a series of individual portraits.
This exhibition is part of Syracuse Symposium™. Syracuse Symposium™ is presented by the Syracuse University Humanities Center for The College of Arts and Sciences, with a 2011 theme of "Identity."
Anderson-Staley's work has been exhibited in solo and group exhibitions internationally and published widely in print and online. She has received numerous awards and fellowships, including a New York Foundation for the Arts Fellowship and a Puffin Grant. Anderson-Staley has given artist talks at many colleges, universities and organizations. She received her bachelor's degreefrom Hampshire College in Amherst, Mass., and her B.F.A. from Hunter College in New York.