John Fazio named marketing director at Whitman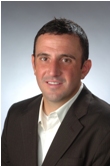 John Fazio has been named director of marketing for the Whitman School of Management. He is responsible for the planning, design and implementation of Whitman's overall marketing strategy, including development, design and use of branding, printed materials, social media platforms and other new technologies. One of his immediate projects is to develop a strategic marketing plan to position and distinguish the school's MBA, iMBA and MS programs, and enhance recruitment of graduate students. 
In his role, Fazio helps develop and oversee marketing and communications budgets for all Whitman programs and works with senior administration and directors to develop successful and cost effective methods of promotion. He collaborates with Whitman's IT director and communications manager on the Whitman website, to ensure the design is fresh, the site is marketed toward audiences in the best light, the content is current and engaging and the overall presence is an excellent representation of the Whitman School.  Together with the communications manager, Fazio markets and promotes Whitman to national media outlets that cover business schools. 
Fazio has substantial marketing communications experience, including specialization in brand strategy, business and market development, lead generation, channel promotion and distribution/distributor programs. Prior to Whitman, he served as an account supervisor at Eric Mower and Associates (EMA), where he was responsible for day-to-day operations of EMA's B2B Building and Construction business unit, including key accounts Legrand/Pass & Seymour, Ferraz Shawmut, LENOX Tools, KI, IDEA, Galson Labs and Gastite. His professional experience also includes marketing and communications oversight at local firms WYNIT Inc. and Ryan Communications. 
Fazio holds a bachelor's degree in English and marketing communications from Le Moyne College.