Arts & Culture
New summer abroad program explores Italian film studies, restoration in Bologna
Students of Syracuse University Abroad's new summer program, Italian Film Studies and Restoration in Bologna, are spending five weeks immersed in one of Italy's most vibrant cultural cities learning about classic cinema and attending sessions on film restoration.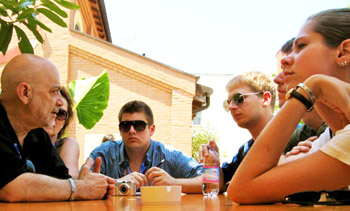 Nine SU students are currently in Italy participating in the program, which began on June 18 and runs through July 23. The program is led by Gian Vittorio Baldi, founding producer and distinguished film director of SU's film studies program in Bologna; Stefano Giannini, assistant professor of Italian in The College of Arts and Sciences' Department of Languages, Literatures and Linguistics; and Owen Shapiro, the Shaffer Professor of Film in the College of Visual and Performing Arts' Department of Transmedia. It is open to both undergraduate and graduate students.
The Bologna program is based on a total filmmaker/film studies approach in which students are engaged in the study of Italian film history, along with that of visual strategy, pre-production planning and production. Students generate filmmaking ideas based on their study of such Italian filmmakers as Roberto Rossellini, Luchino Visconti, Vittorio De Sica, Giuseppe De Santis, Pier Paolo Pasolini and Baldi and incorporate what they learn into their own world views and filmmaking interests. The students each make a video project under the direction of Shapiro and cinematographer Stefano Coletta, a professional director of photography who has worked with Ettore Scola, Baldi and numerous other well known directors and producers.
Students in the program also attend Il Cinema Ritrovato, one of the world's most famous classic film festivals, and have the opportunity to meet with the festival's organizers, attendees and presenters, who this year included British film historian/documentary filmmaker Kevin Brownlow, actress Charlotte Rampling and director Bernardo Bertolucci.
The students also engage in independent research activities at the archives of the famous Cineteca di Bologna and receive an introduction to the film restoration process and the facilities. Program presenters include Baldi and Roberto Chiesi.
To learn more about this year's experience in Bologna, visit the blog of participating student Kevin Kern at http://theeanimationguy.wordpress.com.