Eileen Strempel named American Council on Education fellow
Molly Corbett Broad, president of the American Council on Education (ACE), has announced that Eileen Strempel, assistant vice president for academic advancement in Syracuse University's Division of Enrollment Management, has been named an ACE Fellow for academic year 2011-12.
The ACE Fellows Program, established in 1965, is designed to strengthen institutional capacity and build leadership in American higher education by identifying and preparing promising senior faculty and administrators for responsible positions in college and university administration. Fifty Fellows, nominated by the presidents or chancellors of their institutions, were selected this year in a national competition.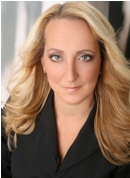 At SU, Strempel has been associate dean of the Graduate School; a Kauffman eProfessor; director of strategic planning and associate professor of art and music histories in The College of Arts and Sciences; as well as artistic director for Pulse, the Performing Arts Series on the SU campus.  Currently assistant vice president for academic advancement in Enrollment Management, Strempel works to advance SU's comprehensive enrollment management strategies. She serves as co-principal investigator of a Jack Kent Cooke Foundation grant to assist with the transfer of community college students to four-year universities, and as co-principal investigator of the NSF-funded NOYCE grant, which aims to increase the numbers of science and math teachers in high-needs school districts.
Strempel received her bachelor's degree from the Eastman School of Music in 1984, and in 1991 studied on full scholarship at Indiana University for her master's degree. In 1998, Strempel was awarded a doctor of music from Indiana University.  Strempel is an acclaimed scholar and singer whose expertise involves the songs of women composers. She is a Presidential Scholar of the Arts who has won numerous competitions throughout the world, has performed with the New York Philharmonic and the Bolshoi Opera, and has appeared as soloist in Bach's B-Minor Mass in New York's Avery Fisher Hall.
Each ACE Fellow will focus on an issue of concern to the nominating institution while spending all or part of the next academic year working with a college or university president and other senior officers at a host institution. In addition to being an ACE Fellow on the SU campus, Strempel has been matched with Colgate University for her placement.
The ACE Fellows Program combines retreats, interactive learning opportunities, campus visits, and placement at another higher education institution to condense years of on-the-job experience and skills development into a single semester or year. The fellows are included in the highest level of decision making while participating in administrative activities and learning about an issue of benefit to SU.
Fellows attend three week-long retreats on higher education issues organized by ACE, read extensively in the field, and engage in other activities to advance their knowledge about the challenges and opportunities confronting higher education today.
Founded in 1918, ACE is the major coordinating body for all the nation's higher education institutions, representing more than 1,600 college and university presidents, and more than 200 related associations, nationwide. It provides leadership on key higher education issues and influences public policy through advocacy.