Campus & Community
Mitchell elected faculty representative to Board of Trustees
Don Mitchell, distinguished professor of geography in the Maxwell School of Citizenship and Public Affairs, and The College of Arts and Sciences, has been elected by the Syracuse University Board of Trustees as faculty representative. The appointment became effective May 14.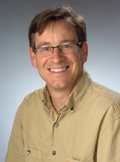 The faculty representative is a board-elected, non-voting member who serves for a two-year term. The faculty representative is a tenured faculty member who attends meetings of the board and executive committee. 
"The board values having a faculty representative attend board meetings; it fosters enhanced communication and a shared vision and partnership for the benefit of the University," says SU Trustee Board Chairman Richard L. Thompson G'67. "We are very grateful to Harvey Teres, who served with distinction as the first faculty representative to the Board of Trustees." 
"I am very much looking forward to this opportunity to represent faculty interests and concerns to the board; we appreciate the board's understanding that a faculty voice at its meetings is essential and I will be able to make the most of the opportunity," says Mitchell. "Like my predecessor, Harvey Teres, I also look forward to playing a vital role in communicating to the faculty the range of important work the board does." 
Mitchell, who served as the chairman of the Department of Geography from 2003-07, joined SU in 1997 and is a cultural geographer with research and teaching interests in investigating the way people think and live their lives in particular places. He specifically focuses on issues related to migratory labor and agricultural landscapes, urban public spaces, the homeless, hungry and other marginal populations in U.S. cities. 
Mitchell is the founder and director of The People's Geography Project, which popularizes and makes more relevant and useful to lay audiences the important, critical ways of understanding the complex geographies of everyday life that geographers have and continue to develop. He is also a member of the Syracuse Hunger Project, a community-University consortium that examines and addresses the changing geography of hunger and food insecurity in the Syracuse area.  
In June 1998, Mitchell was awarded one of 29 annual MacArthur Fellowships, being the first SU faculty member to receive this honor. In 2002, he held a Fulbright Fellowship at the University of Oslo. In 2008, he was named a Guggenheim fellow, and also received SU's Wasserstrom Award for Excellence in Graduate Teaching. 
Mitchell earned a Ph.D. from Rutgers University in 1992.