Arts & Culture
VPA announces establishment of Philip H. Stevens Award in industrial and interaction design
Syracuse University's College of Visual and Performing Arts (VPA) has announced the establishment of the Philip H. Stevens Award in the college's industrial and interaction design (IID) program in its Department of Design. The award is named in honor of Philip H. Stevens '51, an industrial designer and president of Philip Stevens Associates Ltd. in Skaneateles, N.Y., who made a generous gift of $100,000 to the program with his wife, Margueritte.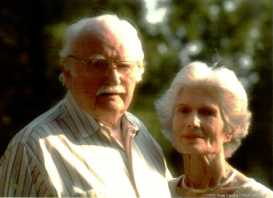 "Phil and Margueritte's gift not only supports the industrial and interaction design program, but the Department of Design as a whole," says Lucinda Havenhand, chair of the department. "Professional practice is at the core of our programs, and we value engagement with industry professionals, particularly our outstanding alumni."
"I can't say enough about the efforts of Phil and Margueritte Stevens and their generous gift to our program," says Don Carr, associate professor of IID. "For the past 15 years, Phil has worked with our students to develop a wide range of challenging projects. His understanding of professional practice, coupled with his strong desire to explore the boundaries of design, has had a profound impact on our students."
The Philip H. Stevens Award will be given annually to the winner of the IID program's 360 Competition, a joint initiative between the program and industry collaborators. Each spring, a design brief is proposed by a lead collaborator, who serves as an adviser throughout the project. Junior IID students who elect to take part must address the challenge through comprehensive research, analysis and visionary problem solving. They work on the project over the summer and present their solutions on campus the following fall semester—in their fourth year of the five-year IID program—to a jury of professionals, which selects a winner.
In May, the IID program announced that the design problem for this year's 360 Competition will be to address the needs of a wide range of people with disabilities by developing a device or system that enables them to pick and place objects within a residential workspace. Scott Ryan, president of Brownlie Design in Skaneateles, N.Y., and Greg Smiley, industrial design manager at the Raymond Corporation in Greene, N.Y., will serve as lead collaborators for the project and as members of the jury, along with Stevens and Carr. The winner will be announced in October.
Stevens graduated from VPA with a bachelor of fine arts degree in industrial design in 1951 after serving in World War II with the 10th Mountain Division. He has managed design consulting offices in Central New York since 1954. Before working independently, he was an aircraft engineer on high-altitude bomber aircraft. As a consultant, he has helped clients in the design of power hand tools, business machines, pumps, engines and underground mining machinery.
Stevens has championed product safety and has testified before a U.S. Senate Committee supporting the development of the Consumer Product Safety Commission and a Presidential Commission on fire prevention and control.
For his service to the Industrial Designers Society of America (IDSA) and his excellence in industrial design, Stevens was made a fellow of the society in 1975. He has also served as vice president of IDSA. He is the recipient of two Master Design Awards, and his firm's work has been exhibited in the Museum of Modern Art in New York City, the Roberson Museum in Binghamton, N.Y., and the Hanover Fair in Germany.