SSIC's Christine Sauve named a finalist for a 2011 Financial Executive of the Year Award
The South Side Innovation Center's (SSIC) Christine Sauve has been named a finalist for a 2011 Financial Executive of the Year Award in the category of nonprofit organizations with gross revenues of less than $5 million. Sauve is responsible for financial oversight of the SSIC, including grants administration and coordination, budget management and financial tracking.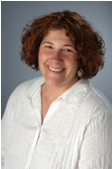 The award is one of several given to financial professionals in Central New York and the surrounding area for outstanding performance in their roles as corporate financial stewards, and is intended to highlight the growing importance of financial executives in the region. Additional award categories include private companies with more than $50 million gross revenues, less than $40 million gross revenues, and less than $10 million gross revenues; and nonprofit organizations with more than $15 million gross revenues, less than $14 million, and less than $5 million.
The top financial executives will be announced at a luncheon on Tuesday, June 14, at the Holiday Inn, Liverpool. SSIC is the area's leading small business incubator and training center, a product of the Whitman School of Management at Syracuse University.
"Christine is a wonder," says Bob Herz, director of the SSIC. "She manages the many public and private grants and revenues that fund SSIC and all of its resident programs, helps in the development of applications for new grants and is intricately involved in budget development and management—a process that is infinitely more complicated than it sounds. She has to work through several layers of federal, state, and local government, and private funders and foundations, all with their own bureaucracies, stakeholders, reporting requirements, overheads and special needs. She does all of this with near-miraculous ease and grace. She is effectively our CFO."
"I am thrilled about this public recognition of Christine's hard work and dedication to Whitman, the Falcone Center and the SSIC," says Tom Kruczek, director of the Falcone Center for Entrepreneurship at the Whitman School and Sauve's director supervisor. "Her keen attention to detail, superior project management skills and collaboration with a host of constituents have been crucial to the continued success of the SSIC. We are so proud of her accomplishments."
The Financial Executive of the Year Awards are presented by the Bonadio Group. The awards luncheon attracts top decision-makers from companies across CNY. Industries represented range from banking, architecture and media to higher education, government and manufacturing.
SSIC is a top-tier, nationally ranked center with a history of implementing groundbreaking programs that serve all entrepreneurs in the region. The incubator also has programs that focus on special populations. Its portfolio of programs include the WISE Women's Business Center (a U.S. Small Business Administration-funded women's business center); Start-Up New York, a program for disabled entrepreneurs; PRIME, a program that focuses on low income entrepreneurs; the Entrepreneurial Assistance Program, which focuses on developing business plans and opening markets; the SSIC Academy, which provides over 180 hours of training in entrepreneurial subjects; the Community Test Kitchen (COMTEK), which helps food entrepreneurs bring their food products to commercial markets.