Campus & Community
Project Advance Summer Institute begins
On June 27, Syracuse University Project Advance kicked off its annual Summer Institute training, which brings 141 high school teachers from across the Northeast and abroad to the SU campus to be trained to teach SU courses in their home schools.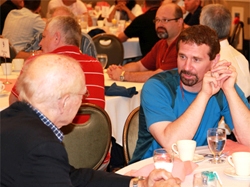 The three-week Summer Institute runs through July 15, with most of the teachers—114—on campus the first week, training to teach everything from accounting to web design. Over the course of the three weeks, the teachers will participate in workshops for 24 different SU courses.
A total of 74 schools are sending teachers to train with SU faculty this summer, from Al Khaleej National School in Dubai to Xaverian High School in Brooklyn, N.Y. Project Advance currently offers SU courses in more than 180 schools in New York, New Jersey, Maine, Massachusetts, Connecticut and Pennsylvania; schools from all six states are represented at Summer Institute this year.
For the first time, Summer Institute welcomes teachers from six Project Advance partner schools in Dubai: Al Khaleej National School, Cambridge International School, Dubai American Academy, Jumeirah College, The Westminster School and Wellington International School. A total of 22 teachers from Dubai are here for Summer Institute 2011.
Teachers who successfully complete the Summer Institute training will be certified as adjunct instructors to teach the specific SU courses for which they trained.