Veterans
Institute for Veterans and Military Families takes part in veteran working group at Clinton Global Initiative meeting
History suggests that the economic and social challenges faced by the more than 2.5 million Americans who have served our country in uniform since 2001 will be formidable upon their transition from military service to civilian life . In order for our nation's vets to succeed, we must understand how to effectively transition them in a way that honors their service, yet acknowledges the challenges they face as a consequence of that service and the unique strengths that vets bring to the marketplace.

The newly established Institute for Veterans and Military Families (IVMF) at Syracuse University, a national center committed to higher education and employment for veterans and their families, has been invited to explore these concepts during this week's Clinton Global Initiative (CGI). The meeting, CGI America, is the first CGI event solely dedicated to economic issues impacting our country. Its focus is job creation and economic growth in the United States.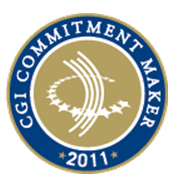 CGI America takes place in Chicago June 29-30, and brings together leaders from business, non-profit and government sectors to develop new ideas for generating jobs through a series of working groups on selected topics. Attendees have selected to take part in one working group, which convenes three times over the course of the meeting. Facilitated by an expert, each group will focus on developing ideas for concrete, immediate action.
IVMF founding director Mike Haynie, Barnes Professor of Entrepreneurship in SU's Whitman School of Management, will participate in the working group Operation Employment: Empowering America's Newest Veterans. Haynie/IVMF's participation can be followed via Twitter (twitter.com/ClintonGlobal, hashtag #CGIAmerica) or CGI's live stream beginning at 1 p.m. on June 29.
"The CGI represents an important opportunity to engage in a dialogue with leaders from business and industry, higher education and government, focused on innovative solutions to address the issues and challenges faced by our veterans and their families," says Haynie. "The Institute for Veterans and Military Families at Syracuse University is committed to play an important role in terms of both identifying and acting on those solutions. We are happy to have been invited to participate in CGI America."
The veterans working group will be led by Paul Rieckhoff, executive director and founder of Iraq and Afghanistan Veterans of America, a veteran of Iraq; and Matt Flavin, director of the White House Office of Veterans and Wounded Warrior Policy, a veteran of Iraq and Afghanistan. Participants will focus on developing strategies to lower unemployment among new veterans by educating and assisting employers and equipping veterans with critical tools for success.
The discussion will include the development of strategies to increase civilian employer understanding of veteran experiences and job skills, in order to facilitate an easier military-to-civilian career transition; how best practices among veteran-friendly corporations can highlight new ways to strategically improve veteran hiring among major employers; and examining how successful examples of veteran-launched advocacy organizations, non-profits and small businesses have helped inspire entrepreneurship among new veterans. The group will also discuss how the development of more robust networking and mentorship opportunities is critical to improving the post-service transition process; why addressing vets as valuable additions for employers, rather than liabilities, is so crucial; and how increasing awareness of support services available to both veterans and employers is a key priority to improving veteran hiring initiatives.
As a result of this participation, the IVMF will make a set of public commitments to action at the CGI, positioned to address some of the issues raised above.
Established in 2005 by President Bill Clinton, the Clinton Global Initiative (CGI) convenes global leaders to devise and implement innovative solutions to some of the world's most pressing challenges. Since 2005, CGI Annual Meetings have brought together nearly 150 current and former heads of state; 18 Nobel Prize laureates; and hundreds of leading CEOs, heads of foundations, major philanthropists, directors of effective non-governmental organizations, and prominent members of the media. CGI members have improved the lives of more than 300 million people in more than 180 countries, by making nearly 2,000 commitments during annual meetings. When fully funded and implemented, these commitments will be valued in excess of $63 billion. More than 250 of those commitments, worth $11.6 billion, are addressing challenges in the U.S.
Founded in 2011 through a partnership with JPMorgan Chase, the Institute for Veterans and Military Families (IVMF) at SU is the first national center in higher education focused on the social, economic, education and policy issues impacting veterans and their families post-service. Through the pillars of educational programming, employment and actionable research, the institute provides in-depth analysis of the challenges facing the veteran community, captures best practices and serves as a forum to facilitate new partnerships and strong relationships between the individuals and organizations committed to making a difference for veterans and military families.