Campus & Community
Duck Race to End Racism is June 11
Syracuse University, Community Wide Dialogue (a program of InterFaith Works of CNY) and National Grid will co-sponsor the ninth annual Duck Race to End Racism on Saturday, June 11, from noon-4 p.m. at the Syracuse Inner Harbor.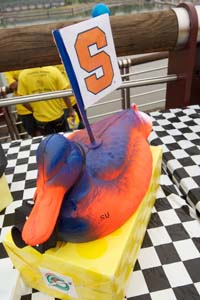 "The Community Wide Dialogue to End Racism has been creating opportunities for our community to openly discuss racism for the last 14 years, and over 8,000 people have participated in this important conversation," says Beth Broadway, executive director of InterFaith Works. "The Duck Race to End Racism helps us bring this work into the spotlight of our community, and this year's race will showcase some of the corporations that have joined us with this courageous work."
"Syracuse University is proud to be a presenting sponsor of this event—an event that challenges us all to reflect on our individual prejudices and stereotypes on race and racism," says James K. Duah-Agyeman, director of SU's Office of Multicultural Affairs. "We join CWD in inviting you to take every opportunity to engage one another in dialogue on race and racism at your places of work and in your communities, however hard this dialogue may be."
The Duck Race to End Racism is a free family event that draws a diverse audience from the community. In addition to the duck races, the event will include children's entertainment, games, face painting, community information booths and free Byrne Dairy ice cream. Proceeds from the event benefit the Community Wide Dialogue to End Racism program.
The duck races will include the Corporate Sponsors' Race at 12:30 p.m.; the Third-Grade Race and Parade at 2 p.m. (with plastic ducks decorated by third-grade students from around Onondaga County) ; and the Community Race (with more than 4,000 multi-colored ducklings) at 4 p.m.
For more information on the event, contact InterFaith Works at 449-3352.