Bailey named IT director for Whitman School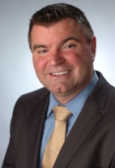 Kevin J. Bailey of Syracuse has been named director of information technology for the Whitman School of Management at Syracuse University. He will oversee IT services for the school, including instructional technology, new media and customer support activities and resources. Bailey will provide leadership in planning and implementing major technology and resource intensive projects, and participate in short- and long-term planning efforts with the dean, senior associate dean, senior faculty and administrative directors. 
For the past nine months, Bailey served as an IT consultant for clients including Yale Law School, Le Moyne College and National Grid. In this role, he automated and improved business processes, designed online collaborative workspaces and provided strategic and tactical IT support as needed. 
Before moving to Syracuse, Bailey worked at Yale Law School for nine years. There, he developed and implemented a disaster recovery and business continuity strategy, worked with public affairs to create and manage the school's online identity, designed and managed the Learning Management System and managed servers and systems supporting research, teaching and administrative activities. 
Bailey earned a bachelor of arts in psychology and religious education from Campbellsville University, and a master of arts in religion from Yale. He is currently pursuing a master of science in information management at SU's iSchool.