Business & Economy
WISE wins 2011 Women's Business Center of Excellence Award from U.S. Small Business Administration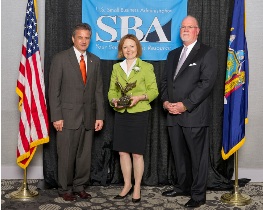 The Women Igniting the Spirit of Entrepreneurship (WISE) Women's Business Center was awarded the Women's Business Center of Excellence Award during the 2011 U.S. Small Business Administration Small Business Week and Small Business Excellence Awards. WISE director Joanne Lenweaver accepted the award at a luncheon held earlier this month. WISE was nominated for the award by Syracuse University. The center is an entrepreneurship product of the Whitman School of Management at SU.
"Access to training and counseling at WISE never ends. The result is the most powerful and unique program for women entrepreneurs in the region, one that has engaged and helped thousands of women," says nominator Thomas Kruczek, director of the Falcone Center for Entrepreneurship at the Whitman School.
"The strength it takes to start and maintain a business is remarkable for anyone, but for a woman the challenges can be daunting. The WISE Women's Business Center knows how to support these entrepreneurs with women-centric programming. I am so proud of every single woman that has come through our doors for training and guidance," says Lenweaver.
WISE has served over 4,600 current and aspiring women business owners since 2006. Located at the South Side Innovation Center, WISE leverages SU's outreach and training resources into invaluable entrepreneurial opportunities for clients.
WISE organizes a variety of networking events, from the WISE Symposium with high-profile speakers and 1,000 attendees, to more intimate, eight-person weekly roundtable discussions where women business owners share advice and support. In just five years, the WISE Center has directly assisted 831 existing businesses and provided more than 1,200 hours of counseling.
The WISE structure for building a successful business incorporates a multi-level approach that works, with more than 100 new businesses launched by clients in the past three years. Clients are given an entrepreneurial awareness assessment in which professional and personal strengths and weaknesses are discovered with the exploration of the business concept. The WISE Center provides assistance with developing business plans, including a focus of financing, forecasting and marketing, as well as business formation with affordable legal counsel through its association with area law firms and the SU Law Clinic.
Before joining WISE in 2008, Lenweaver owned her own advertising design firm for 19 years. She brings a wealth of entrepreneurial experience to her position and has significantly raised the profile of the WISE Center through unique events for women business owners and with a savvy social media presence.