Arts & Culture
Thirty-ninth annual Teenage Competitive Art Exhibition to be presented by The Links Inc., Community Folk Art Center
The Syracuse chapter of The Links Inc. and the Community Folk Art Center (CFAC) will be hosting the 39th annual Teenage Competitive Art Exhibition from May 24 through June 4. A closing reception and awards presentation will be held at CFAC, 805 E. Genesee St., on Saturday, June 4, from 3-5 p.m.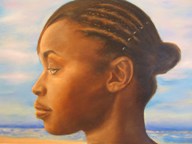 Hosted annually at CFAC, the Teenage Competitive Art Exhibition welcomes submissions from teenage students of underrepresented backgrounds from the city of Syracuse and surrounding communities. With CFAC providing a high-quality gallery setting, students are given the opportunity to share their original artwork with the Syracuse community. Submissions are adjudicated in a variety of categories, and cash prizes will be presented to winners at the awards presentation.
Judging will occur at CFAC on Tuesday, May 24, at 11 a.m. This year's judges include: Robert Colley, associate dean of University College and editor of the journal, Stone Canoe; David MacDonald, cofounder of CFAC and SU professor emeritus; Kevin Mixon, fine arts coordinator for the Syracuse City School District; Tere Paniagua, managing director of Point of Contact Gallery; Georgia Popoff, local poet and teaching artist; and Andrew Saluti, assistant director of SUArt Galleries.
At the awards reception, The Links Inc. will recognize Donna Bradford of Parents Promoting Dance, and Timothy Bond of Syracuse Stage with community service awards. Students from Parents Promoting Dance will also perform.
The Links Inc. is an international organization consisting of more than 12,000 women committed to leadership, friendship and service. Its 270 chapters, located in 42 states, the District of Columbia and the Commonwealth of the Bahamas, have a mission of dedicated service to the community. Founded in 1946, the organization has made its name synonymous with effective programming through its four facets: services to youth, national trends and services, international trends and services, and the arts.
Community Folk Art Center is a unit of the African American Studies Department in The College of Arts and Sciences at Syracuse University. CFAC is a vibrant cultural and artistic hub committed to the promotion and development of artists of the African Diaspora. The mission of the center is to exalt cultural and artistic pluralism by collecting, exhibiting, teaching and interpreting the visual and expressive arts.
For more information about the exhibition, contact CFAC at (315) 442-2230 or at cfac@syr.edu.