Campus & Community
Syracuse feels the love from Ten Tons of Love
For the past 16 years, Syracuse University's Ten Tons of Love program has clothed members of the Syracuse community. According to the Rev. Craig Herrick, pastor of The First English Lutheran Church of Syracuse, the program is the third-largest provider of clothing in the city, and it's free of charge.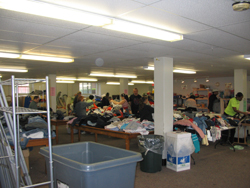 The 2011 collection proved to be a great success. Volunteers compiled 45 tons worth of donated goods that included of variety of items, such as clothing, furniture, lamps, pillows, bedding and food. Beginning on April 27, boxes were placed in dormitories on campus and other locations. Students were able to schedule furniture pick-ups online starting May 11. The last pick-up of goods took place on May 17.
The program began out of Hendricks Chapel, but for the past six years Darya Rotblat, director of Off-Campus and Commuter Services, has led the charge.
"Ten Tons of Love is an amazing program. I am truly passionate about it because it helps so many families in need and it supports sustainability efforts," says Rotblat. "If it wasn't for this program, everything we collected would normally go in a dumpster, and it would be such a loss for our community.
"After 16 years, Ten Tons of Love has grown tremendously, but has not lost its original purpose. It is a program that exemplifies collaboration within our University and beyond, and requires an 'all-hands-on-deck' approach. It has since become a well-oiled machine."
At this point, the program operates in an incredibly ordered fashion. Rotblat and her staff provide an online registration tool for the SU community to volunteer and for students to schedule a donation pick-up.
Trucks are used daily to transport the donations to the First English Lutheran Church of Syracuse, where items are distributed through the church's clothes closet and food pantry. Furniture is trucked directly to the Rescue Mission, Catholic Charities, Interfaith Works, PEACE Inc. and the Refugee Resettlement Program.
Herrick estimates 250 volunteers were involved on his end to assist with unloading the trucks, sorting the donations, hanging the clothing on racks, folding the clothes, washing the clothes and sealing gifts in boxes. For SU's collection and distribution efforts, more than 60 staff and faculty volunteered.
On June 7 at 9 a.m., the church will re-open the clothes closet to the public, which has been closed for this operation. Herrick is expecting a large turnout.