Business & Economy
SU-SIFE places fourth at 2011 National Exposition; adviser named Sam Walton Fellow of the Year
The Syracuse University SIFE (SU-SIFE) team, based in the Whitman School of Management, placed fourth at the 2011 SIFE USA National Exposition held earlier this month in Minneapolis. More than 400 teams competed as part of the exposition. This is the second year that SU-SIFE has placed in the top four at nationals. SU-SIFE members Sierra Fogal '11, Matthew Gartner, Kelly Le '11, Adam Lindheim '11, Camellia Loojune and Sha Goode represented the team during the final-round presentation.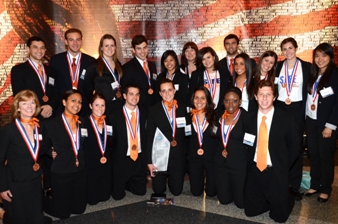 Amanda Nicholson, professor of retail management in the Whitman School, serves as SIFE faculty adviser and Sam Walton Free Enterprise Fellow. Named in honor of the late founder of Wal-Mart, those accepted as Sam Walton Fellows have demonstrated a thorough understanding of the free enterprise system, and the ability to work with university students, community groups, local businesses and entrepreneurs. During the exposition, Nicholson was named a national recipient of the Sam Walton Fellow of the Year.
SIFE competitions are challenging, team-oriented events that create a sense of accountability and motivation for teams to continually improve the quality of their projects. They also provide an opportunity for collaboration and best practice sharing, further strengthening the value of the learning experience and the overall effectiveness of the program. Approximately 4,000 people attended the 2011 national exposition, including leading business executives who judged the competition.
During the final round, SU-SIFE presented their program history and discussed many of their ongoing projects, including:
Team Guatemala, working with Mayan women in weaving cooperatives who practice the ancient art of backstrap weaving to develop products that appeal to the college population, to market and sell these free-trade products through campus bookstores, and to develop a sustainable and eco-friendly product line;
working with the Chadwick Residence, a transitional home for women at risk, to help residents improve their presentation, computer and life skills in order to gain education and employment;
Threads of Hope, a second project in the hills of Guatemala, assisting local women to open and sustain their own thread stores in order to provide a much-needed resource to the community, motivate local weaving cooperatives while nurturing their entrepreneurial spirit, and to overcome gender inequality in the community;
developing COW (Converting Organic Waste), an anaerobic digester to reduce waste on the SU campus and minimize the University's carbon footprint;
Get $mart, an approach to tackling financial literacy for all ages, in partnership with Syracuse Cooperative Federal Credit Union;
partnering with seven Syracuse-area businesses through the Green Business Initiative, to help them gain environmentally sustainable business certification; and 
The DOT (Do One Thing) campaign on the SU campus, a partnership with advertising firm Saatchi & Saatchi, to increase environmental, economic and social sustainability.
The SU-SIFE final-round presentation can be viewed on YouTube.
SIFE brings together a diverse network of university students, academic professionals and industry leaders around the shared mission of creating a better, more sustainable world through the positive power of business. By contributing their talents to projects that improve the lives of people worldwide, SIFE participants are demonstrating that individuals with a knowledge and passion for business can be a powerful force for change.
SU students interested in getting involved with SIFE should contact Carly Hechler, vice president of membership, at cmhechle@syr.edu.