SU director of multicultural affairs honored by city and community
James Duah-Agyeman, director of Syracuse University's Office of Multicultural Affairs, was recognized on Saturday, April 30, at the City Hall Commons as part of Ms. Mary's Philanthropy Day.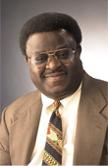 Cora A. Thomas organized the tribute to Duah-Agyeman, also known as Dr. D, for embodying the example set by her mother, Mary Ogletree, a dedicated community servant, teacher, motivator and counselor to the residents of the Syracuse community. 
Duah-Agyeman has passionately served the students, staff and faculty of SU since 1982 in many roles, including his current post. He has also received the Chancellor's Citation for Excellence for his contributions to the student body and University community. 
In 1988, Thomas first met Duah-Agyeman and they sparked an instant friendship. "The one thing I recognized about Dr. D is his willingness to help anyone he meets, especially students," says Thomas. "When my daughter was in high school she was chosen to be in the summer SU STEP program, I asked Dr. D to meet and talk to her. I don't know what was discussed, but she's now an engineer." 
In 2005, Duah-Agyeman named the Office of Multicultural Affairs' black history gospel event after Thomas, known as "The Cora A. Thomas Gospel Extravaganza." "It meant so much for me to name the event after her because Cora had served as the emcee for what we previously called, 'Multicultural Gospel Extravaganza,'" says Duah-Agyeman. "Looking at the number of people from the community who attended the event and how they responded to Cora during the event, I thought it was necessary to make the program more visible and connected to the community. 
"There was no better way to do so than to name it after Cora, given her gospel ministry in CNY that airs on WAER on Sunday mornings.  I envisioned it would give her followers a time and place to celebrate her, and worship with her on an annual basis with a well-known gospel artist. I must say; I have not been disappointed," says Duah-Agyeman.
Gospel music plays a major role in Thomas' personal and professional life. 
"Dr. D has always encouraged me, as well as commended me, for uplifting people of all races and ethnicities through gospel music," says Thomas. "This undertaking is not only done with a smile and unconditional love, but he also attends the annual concerts." 
At the event, Duah-Agyeman was awarded a proclamation from the Mayor of Syracuse, claiming April 30, 2011 as Dr. James Duah-Agyeman Community Recognition Day. 
"Receiving the Mayor's proclamation was, and still is, beyond me," says Duah-Agyeman. "I felt so humbled that Cora would go through the trouble to honor me with a proclamation from the mayor for embodying the example set by her mother. It is a great honor; one that I will cherish for the rest of my life." 
About Mary Ogletree
Mary Elizabeth Reese-Ogletree, a beloved wife and mother, was survived by her husband, Eddie L. Ogletree, and their seven children. She was known as a loving and caring member of the community, who worked with a number of organizations, such as the Huntington Family Center and Girl Scouts. 
Since her passing on June 19, 2005, the family has received various honors in her name. Since 2006, around Mother's Day, the family recognizes her life's work by giving back to the community and honoring her spirit in the name of Ms. Mary's Philanthropy Day. 
In past years, they have hosted community breakfasts with donations going to local not-for-profit organizations, as well as organized a Ms. Mary Philanthropy night at the Syracuse Stage. 
The legacy of Ogletree's work drives her children to engage their communities across the country, including Philadelphia, Detroit, Kansas City, and Syracuse. Mr. Ogletree is still an active member of his community and continues to support Second Olivet Missionary Baptist Church, where he has been a member since 1953.