Campus & Community
Thompson becomes chairman of the Syracuse University Board of Trustees
At Syracuse University's Board of Trustees annual meeting held this past Saturday, May 14, Chairman-elect Richard L. Thompson G'67 officially assumed the role of chairman of the University's Board of Trustees. Outgoing chairman John H. Chapple '75 completed his term as chairman and is now chairman-emeritus. Additionally, eight individuals were elected as trustees.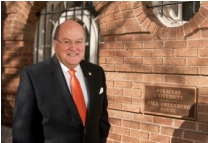 Thompson, who resides in McLean, Va., joined the board in 2001 and was elected vice-chairman in 2008, after serving as a member of the executive and budget committees, and serving as the chairman of the administrative operations committee. In 2010, he was named board chairman-elect.
Thompson is senior counsel at the law firm Patton Boggs LLP, concentrating his work on pharmaceuticals and food and drugs, areas in which he has spent the majority of his professional career. He is a member of the American Bar Association and is admitted to practice in the District of Columbia and before the U.S. Supreme Court.
Before joining Patton Boggs, Thompson served as senior vice president for policy and government affairs at Bristol-Myers Squibb Co., where he established and led a 45-member global staff and was a member of the company operating committee. During his tenure at Bristol-Myers Squibb, he was the principal representative of the CEO to industry associations, managed development of major public policy positions and led the integration of the government affairs staff following the merger of the Bristol-Myers and Squibb companies. Thompson was also responsible for leading the company to the top tier of advocacy in the pharmaceutical industry, and chairing a number of successful industry working groups on tax, intellectual property and Medicare prescription drug benefits.
Thompson spent nearly eight years on Capitol Hill working as an executive assistant to Rep. John Terry (R-NY), and later as Republican staff director and chief counsel to what is now known as the House Committee on Oversight and Government Reform. During his tenure as staff director and counsel, the committee focused on government reorganization, including the establishment of offices of Inspector General throughout the executive branch; oversight of multiple agencies, including the Food and Drug Administration and the Health Care Financing Administration; and the re-enactment of programs supporting state and local government financing.
Thompson was a commissioned officer in the U.S. Army from 1968 to 1970 and completed his service with the rank of captain. He was awarded the Bronze Star and the Army Commendation Medal with oak leaf cluster in 1969 for service in Vietnam.
He has been involved in numerous civic and charitable activities, including serving as past chair of the board of directors of Ford's Theatre, past chair of the governance committee and member of the board of directors of Meridian International Center and a member of the Federal City Council. He has also served on the board of governors of the Bryce Harlow Foundation.
Thompson has served on SU's Washington, D.C. Advisory Board, and has previously served on the Whitman School of Management Advisory Board and the Maxwell School Advisory Board. In 2000, Thompson and his wife, C. Jean Terry '66, provided significant financial support for the Remembrance Scholarship, given each year in memory of those SU students killed on Pan Am Flight 103 over Lockerbie, Scotland.
In addition to earning his master's degree in political science from SU's Maxwell School, Thompson received a law degree from the Columbus School of Law at The Catholic University of America, and a bachelor's degree from SUNY Albany.
Eight newly elected trustees
Darlene T. DeRemer '77, G'79 of Wrentham, Mass., is a managing partner at Grail Partners LLC, which she helped found in 2005. In addition to heading up the Boston office, DeRemer is the senior banker focusing on the asset management industry. Grail is an advisory merchant bank serving the investment management industry.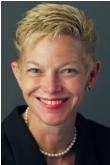 Prior to becoming an investment banker at Putnam Lovell NBF in 2003, she was for 25 years a leading adviser to the financial services industry, specializing in strategic marketing, planning, product design and the implementation of innovative service strategies.
DeRemer serves on the board of directors for AARP Women's Leadership Circle Advisory Board on Financial Securities; AARP Services, Inc., chairman of the board; AARP Global Network board of managers; and ING Clarion Real Estate Fund board.
For SU, DeRemer is a past member of the National Alumni Association board of directors, has taken a leadership role in the greater Boston campaign events and initiatives, and serves on the Whitman School of Management Corporate Advisory Council, including serving on its development committee. She is a member of the Whitman Women in Business Club, is a frequent lecturer at Whitman and assists with the Orange Value Fund. 
She received both a bachelor's degree and M.B.A. from the Whitman School.
Nicholas M. Donofrio G'71, of Ridgefield, Conn., is a 44-year IBM veteran who led IBM's technology and innovation strategies from 1997 until his retirement in October 2008. He also was vice-chairman of the IBM International Foundation and chairman of the board of governors for the IBM Academy of Technology.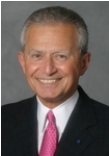 Donofrio is focused sharply on advancing education, employment and career opportunities for underrepresented minorities and women. He served for many years on the board of directors for the National Action Council for Minorities in Engineering (NACME) and was NACME's board chairman from 1997-2002. He also served for several years on the board of directors for INROADS, a nonprofit organization focused on the training and development of talented minority youth for professional careers in business and industry. He currently is co-chair of the New York Hall of Science.
Donofrio is a member of numerous technical and science honor societies. He is a fellow of the Institute for Electrical and Electronics Engineers, the U.K.-based Royal Academy of Engineering and the American Academy of Arts and Sciences, and is a member of the National Academy of Engineering.
He earned a bachelor's degree in electrical engineering from Rensselaer Polytechnic Institute in 1967, and a master's degree in electrical engineering from SU's L.C. Smith College of Engineering and Computer Science in 1971.
David G. Edelstein '78, of Evanston, Ill., is vice president of supply chain management project management at Siemens Healthcare Diagnostics. Edelstein joined Siemens Healthcare Diagnostics in 2007 and has been responsible for leading the development of advanced information and e-business systems to support the company's worldwide organization.

Previously, he was senior vice president of regulatory affairs, quality systems, health, safety and environment, and CIO for Dade Behring. Prior to joining Dade Behring, Edelstein was vice president of information management and productivity, responsible for financial and supply chain systems at Bristol-Myers Squibb. He also held various positions in information technology for IBM.
For SU, Edelstein serves on the Dean's Council and Campaign Leadership Council at the L.C. Smith College of Engineering and Computer Science. He has recently established an undergraduate scholarship in the L.C. Smith College, from which he received a bachelor's degree in computer science. He also has served as an affiliate professor at L.C. Smith College and guest lectures on the topics of complex integration projects and health care and information technology.
He earned an M.B.A. from Baruch College-the City University of New York.
Christine E. Larsen G'84 is the head of operations for Retail Financial Services (RFS) at JPMorgan Chase in New York City. RFS is one of the largest U.S. providers of banking and lending, employing over 145,000 people.

Prior to this, she held a variety of corporate operations and technology leadership roles at JPMorgan Chase, including chief operating officer of its Treasury and Security Services business, head of Banking Operations and Technology and its Enterprise Program Management organization. In these roles, Larsen was instrumental in driving major projects, reorganizations and transformations. Among other accomplishments, she successfully led the complex integration of Bear Stearns and Washington Mutual following their mergers with JPMorgan Chase.
Previously, at Smith Barney her leadership roles included heading Citigroup's Global Operations for Corporate and Investment Banking. She also managed global client delivery for the Global Transaction Services business. Larsen's career began in 1984 at Accenture, a global management consulting, technology services and outsourcing company.
An active supporter of education initiatives, Larsen has led JPMorgan Chase's collaboration with SU, developing the first ever cross-disciplinary curriculum to train students for large-scale computing in global enterprises. She was a founding member of Citigroup's Global Transaction Services Women's Council, which provides educational and on-the-job programs to help women succeed.
Larsen graduated with distinction from Cornell College in Mt. Vernon, Iowa, and completed her master's degree in library science at SU's School of Information Studies, as a University Fellow.
Samuel G. Nappi, of Pompey, N.Y., is the founder and chairman of Alliance Energy Group, LLC, which he founded in 1994. Alliance Energy specializes in producing energy in a safe, reliable and efficient manner while simultaneously maintaining a high level of environmental stewardship.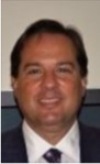 As an entrepreneur with an interest in civil rights, social justice and the environment, Nappi has focused his efforts on building companies and working with organizations that attempt to better the human condition. He created World Harmony Productions to serve as a bridge between commerce and the arts. World Harmony develops films, plays and musicals with a social consciousness.
Nappi serves on the board of directors of the Dr. Martin Luther King, Jr., Center for Nonviolent Social Change in Atlanta, as senior adviser to Martin Luther King III. The center was established in 1968 by Coretta Scott King as the official, living memorial dedicated to the advancement of the legacy of her husband. Nappi also serves as a member of the Bipartisan Policy Center in Washington, D.C. on the National Security Initiative Corporate Advisory Board, the Strategic Public Diplomacy Project, and the Leaders' Council. 
At SU, Nappi has strongly supported the College of Law's Cold Case Justice Initiative, which seeks justice for racially motivated Civil Rights-era murders. Additionally, he has collaborated with SU's visual arts, the College of Law, The College of Arts and Sciences, Syracuse Stage and University College.
Mark A. Neporent L'82, of New York City, is chief operating officer, general counsel and senior managing director for Cerberus Capital Management, since 1998.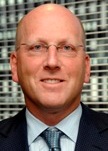 A private equity company, Cerberus reports $24 billion under management. Neporent, together with Cerberus' CEO, CFO and CAO, is responsible for the day-to-day operations of the firm and is a member of the firm's investment committee, compensation committee, valuation committee and risk/compliance committee. In addition to his role as COO, general counsel and senior managing director, Neporent is in charge of the firm's media relations and is a member of the board of directors of Cerberus Operations and Advisory Co., LLC. Neporent joined the firm from Schulte Roth & Zabel, where he was a bankruptcy partner in its business reorganization and finance group, and represented Cerberus in its acquisition of Chrysler. 
He is a former trustee of the Association of Bankruptcy Professionals and served on the committee on bankruptcy and corporate reorganization for the Association of the Bar of the City of New York.
For SU, Neporent serves on the College of Law Board of Advisors and has lectured in the College of Law Continuing Legal Education Program.
In addition to earning a J.D. from Syracuse University College of Law, Neporent earned a bachelor's degree from Lehigh University.
Reinaldo Pascual '85, of Atlanta, is a partner at Paul, Hastings, Janofsky & Walker LLP in the corporate practice with a focus on mergers and acquisitions, corporate finance and securities, private equity and investment management. A native of Puerto Rico, Pascual works primarily in the United States, but also has had substantial engagements in Latin America, where he effectively combines his language skills and deep understanding of the culture and business environment with his substantial transactional experience.

He is a director of the Metro Atlanta Chamber of Commerce and the Georgia Association of Latino Elected Officials, is a trustee of the Atlanta History Center and is an Atlanta Advisory Board member of Accion USA, a leading microfinance organization.   
Pascual was a co-founder of United Americas Bank, the first Hispanic-owned bank in Georgia, and has served on many boards, including the Atlanta Convention and Visitor's Bureau, the Georgia Hispanic Chamber of Commerce and Hemisphere, Inc., the private/public entity that directed Atlanta's Free Trade of the Americas initiative.
For SU, Pascual is a key partner as the University establishes higher visibility and a stronger presence in Atlanta. He received a Chancellor's Citation for Distinguished Service in Law in 2002.
He earned a bachelor's degree in political science from The College of Arts and Sciences, and a J.D. from Creighton University.
Brian D. Spector '78, of Livingston, N.J., is senior partner in the law firm of Spector & Ehrenworth. Spector has been practicing law in the Northern New Jersey area for more than 28 years. In 1993, he and his partner founded Spector & Ehrenworth, P.C., now a five-lawyer, AV-rated firm that specializes in commercial litigation, bankruptcy and creditors' rights, commercial transactions, real estate and casino regulatory law.
Spector has also served as the secretary for the Supreme Court of the State of New Jersey District X Fee Arbitration Committee.
For SU, Spector led the re-establishment of the Alumni Club of Northern New Jersey and served as its president. In 2005, he was elected to the SU Alumni Association Board of Directors, and most recently was named president-elect. He will begin his term as president in July.
He is currently an alumni representative with the Office of Admissions, and is a past member of the Metro NY Regional Council, and Parents Office National Board. For his efforts, he received the "Distinguished Alumni Award" from the Office of Admissions.
Spector earned a bachelor's degree with honors in marketing management from the Whitman School of Management, where he later established the Brian D. Spector Family Endowed Scholarship. He has been a guest lecturer at Whitman and recently served as faculty for an AICPA Workshop for forensic accountants. He earned a J.D. from Temple University Beasley School of Law.