College of Law tradition continues with Res Ipsa Loquitur faculty honor
The Class of 2011 awarded College of Law Professor Nina A. Kohn the Res Ipsa Loquitur Award at the May 13 Commencement ceremony. This award recognizes an outstanding member of the faculty for his or her service, scholarship and stewardship to the students of the College of Law. The recipient of this award is chosen by a majority vote of the class of 2011.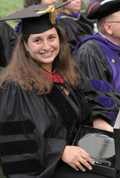 In response to the award, Kohn says: "I am very honored. I love teaching Syracuse University's law students and it means so much to be recognized by them." She also jokes, that "When I first started teaching, someone asked me: 'If a teacher teaches and no one learns, has the teacher taught?' It's good to know that I have in fact been teaching!"
Kohn, an associate professor of law, currently teaches torts and elder law. Her research focuses on elder law and, in particular, the civil rights of senior citizens. In addition to her teaching responsibilities, Kohn is a faculty affiliate with the Syracuse University Gerontology Center and chair of the Elder Rights Committee of the American Bar Association. She is a distinguished fellow of the Canadian Centre for Elder Law and was the 2009 Chair of the Aging and the Law Section of the American Association of Law Schools.
She earned an A.B. degree, summa cum laude, from Princeton University and a J.D. degree, magna cum laude, from Harvard University.
She clerked for the Honorable Fred I. Parker of the United States Court of Appeals for the Second Circuit. Following her clerkship, she was awarded a fellowship by the Skadden Fellowship Foundation to provide direct representation to nursing home residents and frail elders.
Since the inception of the Res Ipsa Loquitur outstanding teaching award by the Class of 2005, each graduating class nominates and then votes on a faculty member whose service, scholarship and stewardship to students "speaks for itself."