Campus & Community
R.A.P.E Center volunteers honored for outstanding service
The Syracuse University R.A.P.E. Center hosted its annual volunteer appreciation event on Wednesday, May 4, recognizing more than 60 student and staff volunteers for their critical impact on the community through advocacy, prevention and education.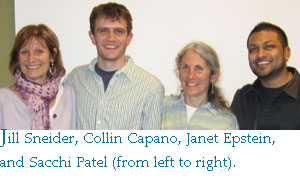 Graduating student volunteers received an Empowered Bystander medal and a certificate that honored and acknowledged their tremendous work toward creating a community of individuals who take action to prevent sexual and relationship violence.
New to this year's event was the presentation of the First Annual Syracuse University R.A.P.E. Center Collin Capano Social Justice Award, which was given to Collin Capano in honor of his eight years of service to the R.A.P.E. Center.
"Collin's generosity of spirit; commitment to equality, solidarity and non-violence; and his deep respect for each and every individual set a standard that deserves to be honored with a very special award," says Janet Epstein, associate director of the R.A.P.E. Center. "Collin has contributed to the work of the R.A.P.E. Center, the Syracuse University community and the global community in countless ways. We wanted to honor him in a way that is fitting with who we know him to be."
Since 2003, Capano has been a dedicated volunteer, activist, humanitarian, mentor and friend to the R.A.P.E Center. He is the co-founder of A Men's Issue (AMI), where men come together to promote a society that is free from sexual violence. Capano has been involved in many different violence-prevention efforts, such as e5m as an actor and co-facilitator. He also completed an MVP Staff Trainer program at Northeastern University, which made it possible for the center to train a large number of MVP peer facilitators at SU.
In 2009 and 2010, Capano was a member of Take Back the Night (TBTN) planning committees. He facilitated several TBTN panel discussions and contributed endlessly to the success of the TBTN events.
In addition to his work with the R.A.P.E. Center, Capano has left a national and international imprint. Twice he traveled to New Orleans to help rebuild communities ravaged by Hurricane Katrina. In May 2008, Capano journeyed to Botswana to help build a school for youth orphaned by AIDS. In honor of his commitment to social justice, Capano received the 2009 Martin Luther King Jr. Unsung Hero award.
This summer, Capano is scheduled to complete his doctoral studies in physics.
For more information on student and staff volunteer opportunities at the R.A.P.E. Center, visit http://students.syr.edu/rapecenter or call 443-7273 .