Arts & Culture
Library's Plastics Collection goes online
The Special Collections Research Center at the Syracuse University Library has unveiled a new website, plastics.syr.edu, devoted to its significant Plastics Collection. The website is a treasure trove of information and images of the more than 2,000 artifacts in the Plastics Collection, the largest university-based resource on the history of plastics. The site also links to more than 40 archival collections on the history of plastics, and to the library's catalog of several thousand books and periodicals related to the history, science, technology and business of plastics. New information and artifacts are added regularly.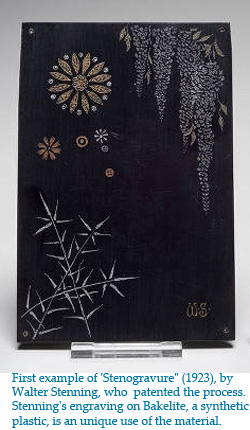 The Plastics Collection serves to advance the study and understanding of plastics in society, including its role in chemistry, technology, industry, medicine, art, design, sports and other fields. The collection holds a variety of early plastics made of celluloid, thermoset plastics such as Bakelite and Catalin, as well as plastics made popular after World War II, such as acrylics, polystyrene, polyethylene, polypropylene and nylon. The archival collection contains material related to important plastics companies, such as sunglasses manufacturer Foster Grant, as well as the papers of inventors and entrepreneurs who helped make the 20th century the "Age of Plastic."  Of special interest are plastics pioneer John Wesley Hyatt's patent books. 
The project was launched in 2007 when members of the Plastics Pioneers Association, an organization of individuals who are persons of accomplishment in the plastics industry, approached SU Library about establishing a plastics collection and companion website. The collection expanded in 2008, when the National Plastics Center and Museum, located in Leominster, Mass. closed and transferred its collections of artifacts, books and manuscripts to SU. This acquisition expanded the library's already significant holdings in industrial design, science and technology. 
The Greenwald-Haupt Charitable Foundation and Harry Greenwald, a SU alumnus and member of the SU Library Advisory Board, provided funding for the project. The Plastics History and Artifacts Committee of the Plastics Pioneers Association also provided support. Greenwald's continuing support will enable the ongoing development of the collection and plastics website. 
For more information, contact Sam Gruber, curator of the Plastics Collection, at sdgruber@syr.edu.