Arts & Culture
Palitz Gallery presents 'Pa Bouje Ankò: Don't Move Again' opening on May 12
Exhibition captures life in Haiti before and after earthquake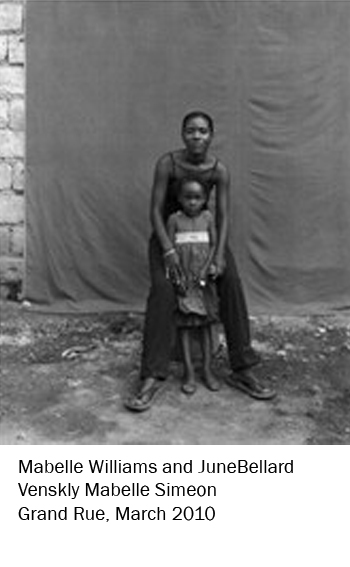 In creating "Pa Bouje Ankò: Don't Move Again," photographer Laura Heyman traveled to Haiti in November 2009. She began the project with a question: "Can someone from the First World see and photograph within the Third World without voyeurism or objectification?"
This query led Heyman to open a formal portrait studio in the Grand Rue neighborhood of Port-au-Prince, where she invited members of the local community to have their portraits made. It would turn out that Heyman's project captured life in Haiti both before and after the earthquake that devastated the island in January of last year.
"Pa Bouje Ankò: Don't Move Again" will be on display May 12-June 16. The Palitz Gallery is located at Syracuse University's Lubin House, 11 East 61st St., New York City.
Heyman works with an 8×10 camera to create black-and-white portraits that recall the work of earlier studio photographers like Mike Disfarmer and James VanderZee. While making these photographs, she was aware of the many cultural complexities inherent in this form of representation. "I was highly conscious of everything that stood in the way of a real exchange between myself and each person who sat for a portrait—race, class, opportunity and lack of opportunity, agency, the ability to move freely through the world. These things can make communication difficult, as they are always present, but rarely discussed." To facilitate this exchange, Heyman worked with a translator, engaging each sitter in an extended conversation that ranged from discussions of popular culture to questions about Haiti's international reputation. This important connection was enough to allow each person sitting for a portrait the opportunity to claim their space and become an active participant in the image-making process.
"Pa Bouje Ankò: Don't Move Again" began as a proposal for the Ghetto Biennale, a unique experiment organized and curated by the British artist Leah Gordon, Haitian art collective Atis-Rezistans, and American artist Myron Beasely. It took place in Port-au-Prince in November and December 2009. The idea for the biennale was planted when some of the members of Atis-Rezistans were denied visas to travel to an exhibition of their work in the United States. In creative retaliation, they responded by inviting artists from around the world to come to Haiti for an exhibition of their own. Gordon, Beasley and Atis-Rezistans were interested in posing a series of questions about art and globalization—specifically, who is able/allowed to participate in the global network of art biennales that are central to the current art market.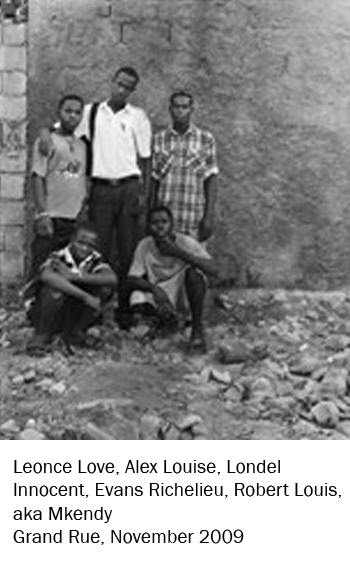 On subsequent trips and in the aftermath of the earthquake, Heyman's project evolved to include various rapidly expanding populations in Port-Au-Prince tied to reconstruction. The first group of non-Haitian subjects photographed for the project was the U.S. Infantry, in May 2010. During her most recent visit to Port-au-Prince in March 2011, Heyman photographed United Nations staff, non-governmental organization employees and volunteers, members of Haitian grassroots organizations and American business investors.
"Pa Bouje Ankò: Don't Move Again" debuted at the Light Work artists' space in Syracuse last fall. Heyman's work has been exhibited at such venues as The National Portrait Gallery, London; Ampersand International Arts, San Francisco; Deutsches Polen-Institut, Darmstadt, Germany; and Senko Studio, Viborg, Denmark. Her most recent curatorial project, "Who's Afraid of America," featuring the work of Justyna Badach, Larry Clark, Cheryl Dunn, LaToya Ruby Frazier, Zoe Strauss and Tobin Yelland, was exhibited at Wonderland Art Space, in Copenhagen. Heyman is an associate professor of photography in Syracuse University's College of Visual and Performing Arts.
Exhibition hours are Monday-Friday, 10 a.m. -6 p.m.; Saturday, 11 a.m.-4 p.m.; closed Memorial Day Weekend. It is free and open to the public. Contact 212-826-0320 or lubin@syr.edu for more information.
Palitz Gallery, located in Syracuse University's Lubin House, is the Syracuse University Art Galleries' visual arts venue in midtown Manhattan. Opened in 2003, the gallery is made possible through the support of SU alumna Louise Palitz and her husband Bernard. Throughout the year, the gallery presents a variety of notable exhibitions from the University's collection and private and museum collections.