Campus & Community
SU headed to the ballpark for SU Day at Yankee Stadium June 26
Syracuse University alumni, staff, faculty and fans have an opportunity once again to fill Yankee Stadium with orange during Syracuse University Day at Yankee Stadium on June 26. Tickets must be purchased by May 26. For a bus package, including tickets and round-trip transportation from Syracuse to New York City, visit http://www.cnyorange.org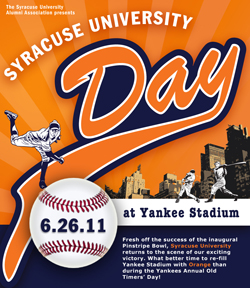 The event, sponsored by the Syracuse University Alumni Association in conjunction with Joseph I. Lubin House, SU's presence in New York City, will be held the same day as Yankees annual Old-Timers' Day. This means SU fans will get to catch the Old-Timers' game, which features many of the past Yankee greats, followed by a matchup between the Yankees and interleague rival the Colorado Rockies.
The idea for SU Day at Yankee Stadium originated with Syracuse University Alumni Association President-elect Brian Spector '78, who saw several reasons to capitalize on the opportunity. "I thought that it would be great to return to Yankee Stadium, the scene of our inaugural Pinstripe Bowl victory over Kansas State, in better weather, to enjoy a Yankees game," Spector says. "I also thought it would be a great marriage of sports traditions that could be celebrated by SU alums in the New York metropolitan area and beyond.
To that end, alumni clubs from across the region, including the Central New York chapter, which has chartered buses to transport interested fans, have been involved, inviting members to head to New York City for the game.
Limited edition hats have been created just for this event and they are only available to ticket buyers. Gates open at 11 a.m. on June 26 and there are several ticket options. Learn more and purchase your ticket today at http://invite.syr.edu/suyanks. If you have questions about this event contact suyanks@syr.edu.