Business & Economy
First Near Westside Initiative microloan to support new business creating eight jobs
The Near Westside Initiative (NWI) has approved its first microloan since launching an innovative micro-lending program in an effort to spur economic development on the Near Westside. The first loan, in the amount of $12,000, has been approved for the Montage Café, a trendy cafe with a French and Asian influence. Eight jobs are expected to be created when the business opens.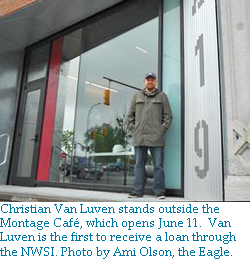 The NWI microloan program, open to entrepreneurs and existing businesses, was developed by NWI Deputy Director Michael Short in partnership with the CNY Community Foundation and Cooperative Federal Credit Union. The CNY Community Foundation provided $25,000 in seed money to launch the $100,000 program in February.
"Montage will be unlike any other café in Syracuse," says Short, who also chairs the Neighborhood Business Association, which has grown to more than 50 members and experienced record turnout over five months. "This is yet another shining example of how our innovative, asset-based small business development strategy is gaining traction. The entrepreneurial renaissance underway in the neighborhood is a true testament to the power of strong partnerships and collaborative efforts."
Montage Café, located at 219 West St., is expected to open June 11, and will serve world-class teas from Roji Tea Lounge, fresh roasted coffee, casual lunches and organic pastries. The café will also carry local wines and beers, and sake to be offered in the evening during RedHouse Arts events. The new café will be furnished with seating made with reclaimed materials and serve as an extended lobby to the Redhouse Arts Theatre at 219 West St., and soon-to-open SubCat music studios. The building also provides flex space for dance and rehearsal practices, yoga classes and zumba dance, and space for events for film and music. Construction in the building has been ongoing for two years, with the space being created specifically to promote and attract arts and music in downtown Syracuse.
While Montage Café is the first business to be approved for a microloan from the program, other budding businesses involving security, graphic design, landscape architecture, woodworking, audio production and cleaning services are in various stages of applying for microloans.
The NWI has the ability to grant microloans from a $100,000 loan pool to Near Westside businesses and entrepreneurs. The NWI's microloan program is designed to be the final step in the initiative's comprehensive small business and entrepreneurial development program, operated in partnership with Syracuse University's South Side Innovation Center, the Small Business Development Center at Onondaga Community College and Syracuse SCORE. The NWI actively recruits neighborhood residents and businesses to enroll in the program.
The NWI Entrepreneurial and Small Business Development Program is directed toward a broad clientele of aspiring, new and existing entrepreneurs, low-income individuals and individuals with disabilities to help them establish profitable and sustainable businesses. The goal of the program is to help promote stability and growth, as well as increase productivity and profitability by helping individuals make informed decisions relating to their businesses.
For more information on the NWI microloan program, contact Michael Short at (315) 443-5402 or mwshort@syr.edu.