Campus & Community
LGBT Resource Center presents class of 2011 Foundation Awards
The LGBT Resource Center at Syracuse University has announced the recipients of its 2011 Foundation Awards, who were honored at the Rainbow Banquet on April 28. This year's recipients join a prestigious group of students, alumni, faculty, staff and community adult and youth partners whose leadership and commitments have made SU and the Syracuse Community a better place for all.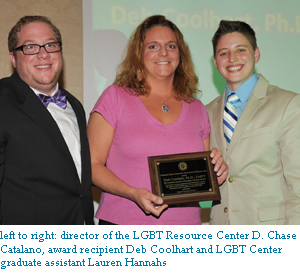 The Foundation Awards were established in 2003 to recognize individuals, regardless of their sexual orientation or gender identity, whose personal or professional lives have positively affected the LGBT community in a significant way.
Nominations came from SU students, faculty and staff, as well as from community partners. The Foundation Awards selection committee was composed of Lauran Hannahs (graduate assistant at the LGBT Resource Center), Jackie Cuevas (faculty member in women's & gender studies), Nick Haas (undergraduate student at SUNY College of Environmental Science and Forestry and incoming president of Pride Union), Evan Lauteria (doctoral student in cultural foundations of education) and Kelley Reece (undergraduate student and student staff member at the LGBT Resource Center).
2011 Foundation Award Recipients
Outstanding Adult Community Member: Deb Coolhart, who was recognized for her personal and professional commitment to the field of Marriage and Family Therapy, and specifically for her role in establishing the transgender services clinic at the Goldberg Center.
Outstanding Youth Community Member: J.J. Davis, a senior at Jamesville-DeWitt High School, who is a dedicated LGBTQ ally reviving the Acceptance Coalition Club at her school, and has worked this year through the QuERI theater program to bring the experiences of harassment that LGBTQ students face every day to the stage. She hopes to increase understanding and encourage change through her advocacy.
Outstanding Community Organization: SAGE Upstate, an organization that has been serving LGBT Central New Yorkers as they age for more than 10 years, with a reach to seven counties in the Central New York area. Sage Upstate is a strong and consistent advocate for LGBT rights on both the community and state level.
Outstanding Faculty Award: Alejandro Garcia, faculty in the College of Human Ecology, who has been a strong advocate in regard to LGBT issues on campus, in the community and on the national scale as well. In the School of Social Work, he has promoted a perspective that diversity, including LGBT issues, need to be addressed throughout the curriculum at both the undergraduate and graduate levels.
Outstanding Staff Member Award: Jeffrey Carroll, residence director for Boland Hall, who has provided unwavering support to the students and the mission of the LGBT Resource Center for the past four years. He co-facilitates New to 'Cuse, co-advises Spectrum and works with LGBT groups both locally and nationally.
Outstanding Alumni Award: H. Daniel Smith, professor emeritus of religion, who taught at SU for 35 years, from 1958-1993. Smith is an impressive role model and advocate for LGBT communities and people, both within and outside of the campus. He was one of the first professors on this campus to come out publicly in his classes, and offer support to both heterosexual and queer students.
Outstanding University Department/Organization: Intergroup Dialogue Program, one of nine institutions participating in the Multiversity Intergroup Dialogue Project. The Syracuse University Intergroup Dialogue program offered its first course in the fall of 2005. Intergroup dialogue is an educational model that brings together students from different social identity groups in a cooperative, small-group learning environment. Intergroup dialogue often involves members of groups with a history of conflict or limited opportunities to engage in deep and meaningful discussion of controversial, challenging or divisive issues.
Outstanding Graduate Student Award: Avery Brooks Tompkins, doctoral candidate in sociology. Tompkins' contributions to the LGBTQA community at SU and in the greater Syracuse community have been significant and sustained during his time on campus. His contributions to the queer studies and interdisciplinary academic landscape are paralleled only by his contributions and commitment to providing support for queer and trans youth in the greater Syracuse community.
Outstanding Undergraduate Student Award: Danielle S. Sutton, who as an undergraduate student has held multiple leadership roles within the LGBT community. Not only is Sutton the current president of Pride Union, but she previously held a position of student staff assistant at the LGBT Resource Center and has been an active leader within the Office of Residence Life and with Spectrum, a group of RAs working to improve the campus climate for LGBTQ students within the campus residence halls.