Arts & Culture
Department of Drama presents 'A New Brain'
In the Department of Drama's production of "A New Brain," a talented young composer named Gordon Schwinn struggles with a creative block. For a brief diversion, he meets a friend for lunch and promptly passes out in his pasta. Rushed to the emergency room, he discovers he has a brain condition requiring surgery. Face to face with mortality, he worries he'll die before having the chance to write his best songs. And so—from his hospital bed, from his wheelchair, from the depths of an MRI and even while comatose—Schwinn writes them. They flow out of his imagination and his subconscious as snatches of reality magically intrude. Tony Award-winning writer/composer William Finn ("The 25th Annual Putnam County Spelling Bee") draws on his personal experience to create a beautiful musical celebrating life, love and the healing power of art.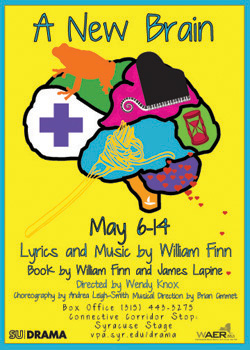 "A New Brain" will run May 6-14 in the Storch Theatre at Syracuse Stage, 820 E. Genesee St. Tickets are available by calling 315-443-3275 or by visiting http://vpa.syr.edu/drama. The SU Drama season is sponsored by WAER.
"A New Brain" opened off-Broadway at Lincoln Center's Mitzi E. Newhouse Theatre in 1998. It starred Malcolm Gets as Gordon and Tony Award-winner Kristin Chenoweth as his nurse, Nancy.
"'A New Brain' is about a man's journey through recovery from a potential near-death experience to a recognition of what is important in life," says director Wendy Knox, a visiting director from Frank Theatre in Minneapolis (in 2008, Knox directed David Sedaris' "The Santaland Diaries" for Syracuse Stage.) "Based on a real-life incident of the composer, William Finn, I think the musical uses wit and whimsy, along with his signature sophisticated lyrics, to explore the role of music, art and love in his battle recovering from brain surgery."
The story is largely told through music with very few book scenes. Musical director Brian Cimmet describes the music as "fast, free-flowing and from the gut."
For this production, Knox has added projections to help tell the story. Images will be projected onto the set, above the action of the play, in the form of "thought bubbles" that will be used to help portray the perspective of the composer as he goes through this experience.